Ripe, juicy, just-plucked, tomatoes at their best! Tomatoes are so tasty and can be added to almost every dish, especially salads. In this lovely salad they are the centrepiece and the pomegranate molasses and lemon zest gives it a real special taste.
Preparation
Cut the tomatoes in halves and transfer to a large bowl. Add onion rings and fresh herbs.
Whisk together the dressing ingredients: olive oil, pomegranate molasses and lemon zest, then drizzle over the salad.
Gently mix flavours together and bring to taste with salt and pepper.
Serve with slices of fresh buffalo mozzarella.
Related salads chosen by others
Taco salad bowl with peppers and sweet potato
Average 3 of 5 stars
Yoghurt with rhubarb & strawberries
Average 3 of 5 stars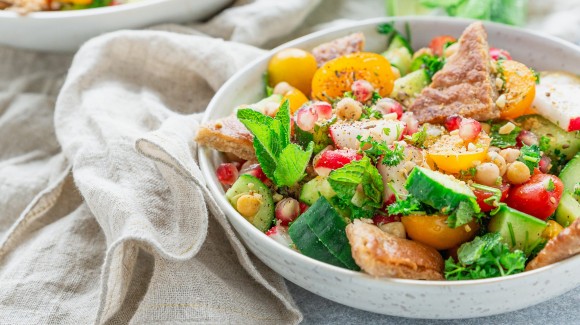 Fattoush Salad
Average 3 of 5 stars