Time to meet the world famous English cucumber sandwich, but this time version2.0! A new version means new sandwich features! We go the extra mile by adding something more than the classic cream cheese and cucumber to our well-known British version. We mix the cream cheese with avocado to create a heavenly delicious creamy avocado cream. And we add some sweet and sour radishes and crunchy sprouts for extra vitamins and flavour. A true sensation of flavours.
Baby cucumbers on this sandwich are wonderfully fresh and they have that extra bite compared to a normal cucumber. Therefore they will give this sandwich that crunchy cuteness. The soft flavour of these sandwiches goes well with anyone's taste. Moreover they are super simple to make and extremely addictive. We have warned you!
Preparation
Cut the radishes into thin slices. Mix the slices in a bowl with the sugar, white wine vinegar and a pinch of salt. Stir well and leave it alone for a while. The longer you leave it alone, the more intense the taste.

Remove the ends from the baby cucumbers and cut the baby cucumbers into slices as thin as possible. It is best to use a mandolin to perform this job.

Mash the avocado with a fork into a mousse and mix it in the cream cheese. Season with salt and pepper.

Cut the crusts off the slices of bread. Place 3 slices of bread next to each other on your worktop and spread 1/3 of the avocado cream evenly over the bread slices. Put half of the cucumber slices on top of the avocado cream.

Drain the radish slices and then spread them over the cucumber layer. Place another slice of bread on this layer. Spread another 1/3 of the avocado cream evenly over the bread slices and divide the sprouts over it.

Put the last 3 slices of bread on top and divide the rest of the avocado cream and the rest of the cucumber slices over it. Then cut each stack of bread slices into quarters.

Serve the cucumber sandwich right away. Don't wait too long to serve them because the avocado cream makes the sandwiches quickly softer and therefore also less tasty.
Related salads chosen by others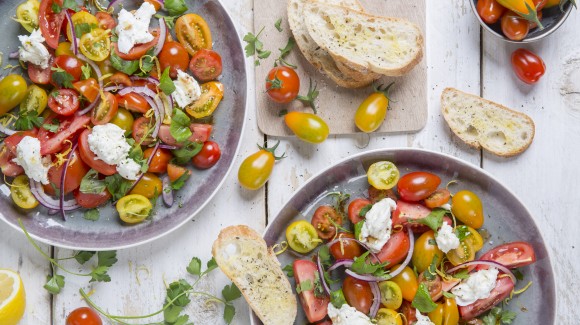 Heirloom tomato salad with pomegranate dressing
Average 3 of 5 stars
A classic Greek salad
Average 3 of 5 stars
BLT salad with ranch dressing
Average 3 of 5 stars