This Middle Eastern inspired salad with toasted pita, served with a tangy smoked eggplant and yoghurt dressing is my take on a traditional fattoush. Try this to share for a light breakfast on the weekend.
Preparation
Toasted pita: Light oven griller and turn to high. Spray both sides of pita breads lightly with oil (or rub with olive oil), sprinkle with salt flakes and toast until just crispy, set aside to cool
Tangy smoked eggplant and yoghurt dressing: Light either a mid size burner on a gas powered stove top. Prick the eggplant a few times with a fork, lightly spray with the olive oil then place directly on the gas burner, it will sizzle and pop a little. As the skin begins to char, rotate the eggplant using a pair of metal tongs, much the same as charring capsicums. Once the entire eggplant skin is charred and the flesh is cooked through, carefully remove to a chopping board to cool. When cool enough to handle, with your hands remove and discard the charred skin, ensuring you get all of it, but leave the beautifully cooked flesh below.
Roughly chop the eggplant flesh. Place the eggplant, tahini, lemon zest and juice, garlic, chickpeas, cumin, salt and pepper in a blender or food processor and blitz well, stopping and scraping down the walls occasionally. Once homogenised, with the machine running on high speed drizzle in the olive oil, then lower the speed and quickly add the feta and yoghurt, stopping the machine as soon as these elements are combined.
Finely chop the mint and add to the mix, pulse until just blended. Transfer dressing to a squeezy bottle and refrigerate
To assemble the salad: Arrange your serving plates. Break the toasted pita bread into bite sized pieces. Smear a dessert spoon full of the dressing on the plate to give everything something to stick to.
Using your hands and fingers, in a bowl gently mix the tomato, cucumber, chickpeas and parsley until just combined. Place handfuls of the mix on the smeared dressing, aiming to build height and uniformity. Scatter with the toasted pita bread, poking pieces into the salad so they stand up at angles, then liberally dress with the smokey eggplant dressing and serve.
Related salads chosen by others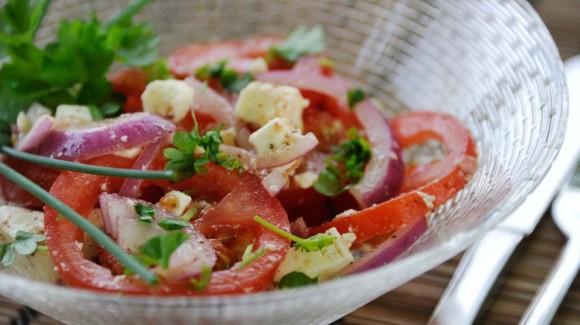 Middle Eastern Tomato salad
Average 3 of 5 stars
Butternut pumpkin and cauliflower salad
Average 3 of 5 stars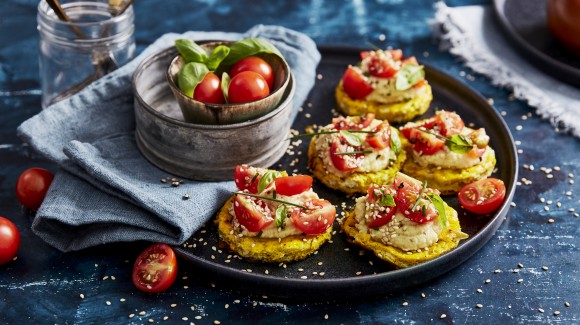 Omelettes (canapes) with hummus, cherry tomatoes and sesame
Average 3 of 5 stars