Who isn't a fan of wraps? Making them with an omelette is healthy and nutritious. These spinach omelette rolls are made from spinach covered with a layer of seasoned cream cheese and filled with smoked salmon. Not only a tasty lunch, but also perfect to serve as a delicious savoury snack at a party or brunch. Doesn't it look festive?
Would you prefer a vegetarian variation? Omit the salmon and just spread the omelette with the seasoned cream cheese.
You can serve these omelette rolls lukewarm or cold.
Preparation
Heat the olive oil and fry the spinach until just wilted. Drain and cool.
Meanwhile, beat the eggs with a dash of milk until the egg mixture is completely yellow and foaming. Season with salt and pepper.
Finely chop the drained spinach and squeeze out any remaining moisture. Add the chives and spinach to the egg mixture.
Heat olive oil again in the pan and fry the omelette on both sides until tender.
Meanwhile, mix the fresh cream cheese with the lemon zest and season with salt and pepper.
Place the omelette on a large plate and spread with the cream cheese, top with the smoked salmon and roll up before cutting into small rolls.
You can serve these snacks lukewarm or cold.
Related salads chosen by others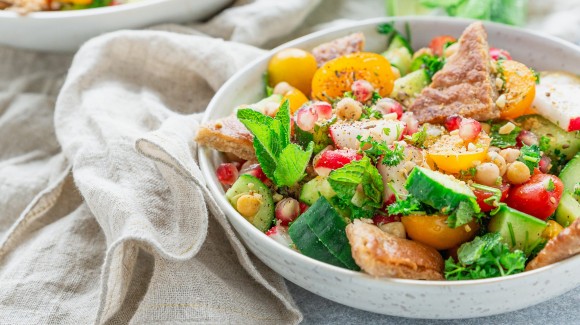 Fattoush Salad
Average 3 of 5 stars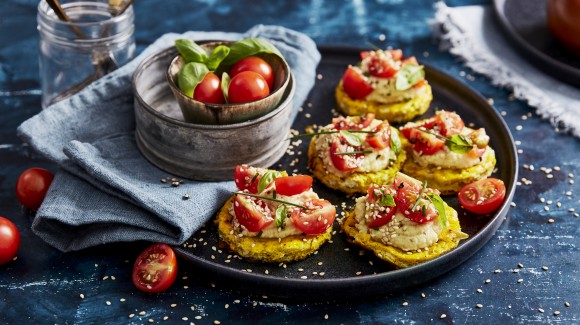 Omelettes (canapes) with hummus, cherry tomatoes and sesame
Average 3 of 5 stars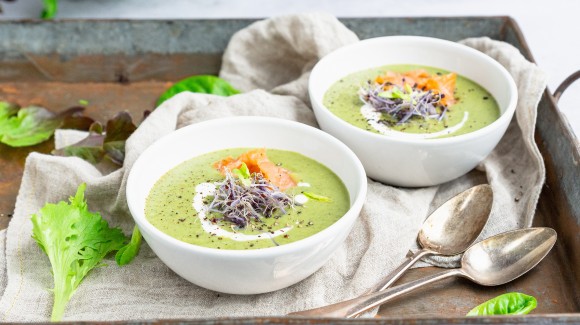 Lettuce soup with mint and peas
Average 3 of 5 stars