What a great start to the summer! Fantastic weather to be outside. In any case, it's not the best weather to spend a lot of time in the kitchen, but it's perfect for barbecuing al fresco. I've created a simple recipe that is quick to prepare and goes well with barbecue dishes. It's also suitable for vegetarians and even works well as a main course!
I used a really summery vegetable, the zucchini, for this recipe. This vegetable is well-suited for grilling. To add an extra pop of colour, I opted to use a yellow as well as a green zucchini. In addition, tasty, ripe tomatoes, red onion, and the beautiful leaves of the Salanova lettuce.
Preparation
Carefully cut the two zucchinis lengthwise. You get 4 to 5 slices of 1 cm from one zucchini.
Use a brush to spread the slices of zucchini with some olive oil.
Heat a large grill pan over high heat and grill the zucchini slices for about 4 minutes until golden brown. Turn halfway. After cooking, place the slices on a plate, but don't stack them.
While the zucchinis are grilling, you can slice the tomatoes and the mozzarella.
Cut the onion into rings and grill.
All the ingredients to build the burger are now ready.
I like to add as many vegetables as possible and I often have sprouts in the house, which go nicely fits with this zucchini burger.
Start with a slice of zucchini, then 2 leaves of lettuce, then 2 slices of mozzarella, 2 slices of tomato, some onion rings and sprouts. Repeat this once or twice, depending on how high you want to make the zucchini burger.
When you're done, skewer the zucchini burger with a cocktail stick to hold it firmly and present it beautifully.
Finally, sprinkle some sesame seeds over the top to give this vegetable dish a burger-like appearance.
Enjoy your meal!
Tips from the author
If you eat the zucchini burger as a side dish, and use the above quantities, you will have extra grilled vegetables, which you can use for lunch the next day or in a salad. Win-win!
Related salads chosen by others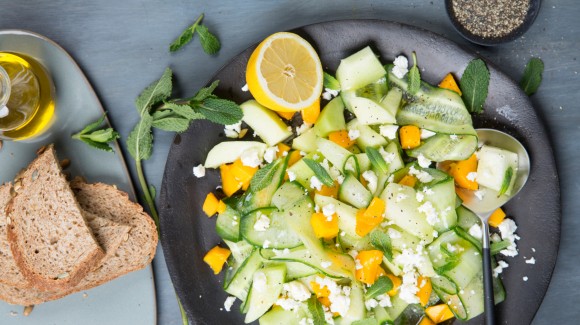 Melon salad cucumber, mango and feta
Average 3 of 5 stars
Lentil salad with roasted pepper, goat cheese and Salanova
Average 3 of 5 stars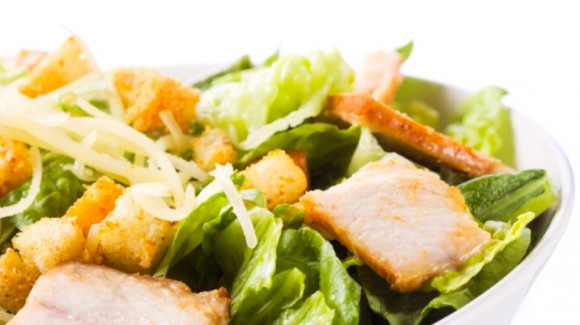 Caesar Salad with pan fried chicken, fresh shaved parmesan and croutons
Average 3 of 5 stars