I recently made this salad at a primary school for about 40 children. Some of them told me that they didn't like or eat salad. One child who told me this came back for five servings. BIG servings! A pretty good effort from that young fella who didn't like salad.
This has to be one of my most favourite salads due to its simplicity to not only shop for and make with short notice, but also for the reason that it's so easy to eat and digest too. The colour contrasting ingredients resemble the colours of Christmas and are core staples in my fridge so it can be made any time of the year, not just at Christmas time.
The combination of these ingredients is marvellous, good enough to tempt the fussiest of the non-salad centric 'customers'. After all, it is a salad made with love.
Preparation
Core the lettuce, separate the leaves, wash in icy water and spin dry
Arrange lettuce leaves on a platter
Add sliced cucumbers over the lettuce leaves
Scatter snow peas over the cucumbers
Drizzle dressing over the snow peas
Add the avocado
Quarter the labneh balls with your fingers and arrange in between avocado slices
Add strawberries
Finish with a sprinkling of pomegranate for festive cheer.
Tips from the author
I use Salanova butter lettuce. Alternatively you can use Cos and gem lettuce (use three gem lettuce for this recipe).
Related salads chosen by others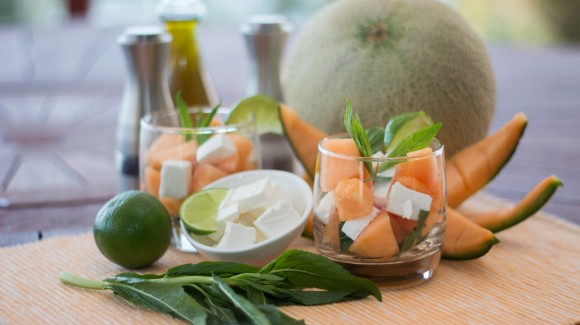 Summer salad with melon, mint and feta
Average 3 of 5 stars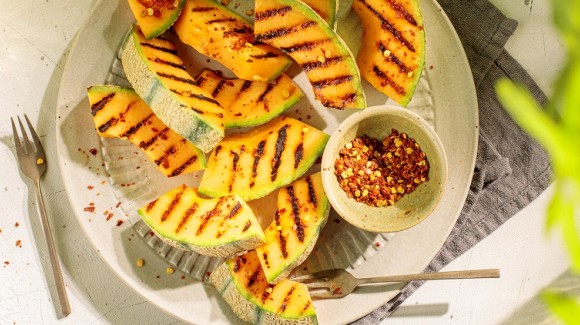 Grilled melon with lime dressing
Average 3 of 5 stars
Cos and kale salad
Average 3 of 5 stars