I love Christmas with the beautiful lights outside homes, in shopping centres and throughout my social media feed from friends across the globe. I love the atmosphere, the happiness on children's faces as they anticipate the day ahead and the joy of those around me. I look forward to catching up with friends returning from afar and I even love the corny movies that resurface each year.
The other great thing I love is the food. Over the past few years, I've discovered an appreciation in the beauty of simplicity. I now add a few quick and easy, yet pretty and healthy additions to the family table. It has been said that we eat with our eyes first which I know is true for my kids especially. If it looks good, they'll give it a try, so this year I'm planning a few visually appealing additions to get them involved, create interest and inspire their growing imaginations.
Preparation
Cucumber Christmas tree appetisers
I love these! They're super cute and very easy to make.
Peel and boil carrots until slightly tender, then cut with a knife or cookie cutter into star shapes. Using a mandolin, slice the cucumber lengthways into ribbons. Cut the cheese into cubes, ensuring it's wide enough to form a solid base (2.5cm should be large enough).
To assemble, fold one cucumber slice back and forth onto a toothpick, ensuring it's wider at the bottom and narrows as you work your way towards the top. Pierce the cheese cube in the centre and top with the cucumber star. Cheddar cheese works well and is full of flavour, but you can use any cheese you like as long as it's firm enough to hold the toothpick.
If you're worried about the stability of your cucumber trees, add your favourite dip to the plate and use as a base for the cheese to rest on. This Roasted red pepper hummus with sweet pointed pepper relish has enough texture to ensure it won't slip.
Prawn salad wreath
My kids adore prawns. I prefer them fresh, but you can also use thawed prawns. Refrigerate until your meal is ready, and add them at the end.
Give your salad a festive twist by plating it up to look like a wreath. Using a large plate, add a smaller bowl to the middle of the plate for the dressing. Mix the lettuce and spinach leaves together before placing around the smaller bowl.
Slice the oranges and the beetroot. Using festive cookie cutters, create beetroot shapes before placing them both around the bowl (over the lettuce and spinach).
Slice the cucumber, carrots and capsicum into batons and place around the bowl and add the prawns. Top with a shower of pomegranate.
The colours are festive and the salad is healthy and refreshing on a hot day. This appetising dish works as an entrée or a main meal. Serve it with a seafood sauce and watch this salad quickly disappear. You could also switch out ingredients and add boccocini, mozzarella, feta or cottage cheese to satisfy cheese lovers, or many other festive fruits like strawberries, blueberries or lychees.
Romanesco steak
I also like mixing things up with an unexpected dish. Natures mini Christmas tree is arguably the delightful looking Romanesco cauliflower with tree-like florets. Just looking at it brings a smile to my face and this Romanesco steak with truffle dressing and sweet potato mash is likely to be on my menu this year.
Enjoy!
7 tips on how to share and enjoy lettuce
15 ways to enjoy the sensational flavours of capsicum
Related salads chosen by others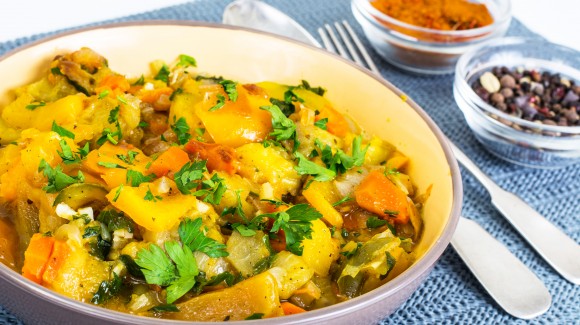 Creamy Mediterranean vegetable curry
Average 3 of 5 stars
Stuffed pointed peppers with minced meat and chorizo
Average 3 of 5 stars
Chicken salad with carrots and goat's cheese
Average 3 of 5 stars