All I want for Christmas is souppppp! The fondest memories are made gathered around a festive table with family and friends and a delicious soup perfectly fits in that Christmas and New Year picture. Yes, soup can be festive too… it's easy to prepare, easy to cook and it can be served in a luxurious way without having to spend and suffer hours and hours in your kitchen. This creamy cauliflower-parsnip soup with bacon-hazelnut crumble is a living and loving example of how heavenly soup can be. Ready in the blink of an eye, a bowl of yummy vegetables and toppings to add that extra luxurious touch.
We have topped this soup with a crumble of bacon and hazelnut. Are vegetarians part of your show? Just replace the bacon-hazelnut crumble by smoked almonds and dried cranberries which are chopped in small pieces and spread them together with the cress over the soup. Would you like to make it even more luxurious? Set some cauliflower florets aside and briefly roast them in your pan. Divide them over the soup together with the crumble and you are ready to rumble!
Preparation
Chop the onion and finely chop or crush the garlic. Saute the onion and garlic in a pan with olive oil until the onion is translucent. Then add the fennel seeds and fry everything together for a minute.

Then add the cauliflower florets, parsnip pieces and vegetable stock. Bring to a boil and then lower the heat. Let the vegetables simmer for 15-20 minutes until the vegetables are tender and firm to the bite.

In the meantime, heat a frying pan over medium heat. Roast the hazelnuts in the frying pan until they are light brown. Remove them from the pan and let them cool briefly. Then roughly chop the nuts into small pieces.

Heat the same frying pan again on medium heat and fry the bacon until it is nicely browned and crispy on all sides. Let the bacon cool on kitchen paper. Then cut or break the bacon into pieces.

Puree the vegetables and stock into a soup and remove the pan from the heat. Pour the whipped cream into the soup and stir well. Then season the soup with salt and pepper.

Serve the soup with the bacon-hazelnut crumble and garnish your bowls of soup with fresh cress to your own taste and preferences.
Related salads chosen by others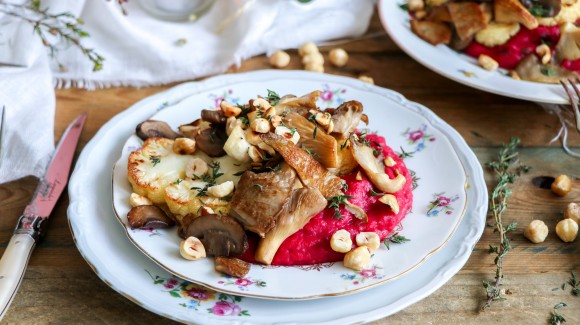 Cauliflower steak with goat's cheese, red beet cream and mushrooms
Average 3 of 5 stars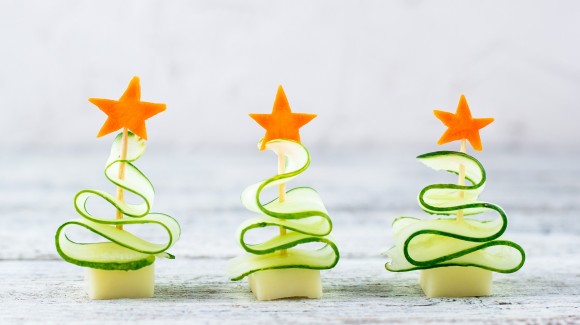 Festive table toppers
Average 3 of 5 stars
Smoked duck with roasted beetroot and pomegranate
Average 3 of 5 stars