Dumplings are a part of holiday season. But we like to give this traditional dish a twist. We make the dumplings from potatoes and flour and add sweet potatoes. These vegetarian dumplings are a great way to include extra vegetables during your holiday dinners.
To go with it, we serve delicious, soft-stewed peppers. A tip for meat lovers – consider combining this with a delicious roast!
Preparation
Remove the seeds and stem from the sweet pointed peppers. Cut the peppers into long, thin strips. Finely chop or crush the garlic cloves. Chop the onions.
Heat oil in a large frying pan. Fry the chopped onion on low heat until it is soft and translucent. Take your time here.
Remove 1/3 of the onion from the pan. Then add the pointed pepper slices as well as the balsamic vinegar, honey, chilli powder and diced tomatoes. Bring to the boil and then turn the heat down low. Put a lid on the pan and let it simmer on low heat for as long as possible. The longer the tastier. Five minutes before serving, add the capers and season with salt and pepper before serving.
Peel the potatoes (both sweet and regular) and cut them into pieces. Boil them for 10 -15 minutes until the potatoes are tender. Then let them drain and cool briefly. Use a masher or a fork to puree the potatoes (ensure as few lumps as possible).
Next, stir the flour into the mashed potatoes and add the egg yolks and the fried onions. Finely chop the curly parsley and add to the puree. Season with pepper and a good amount of salt.
Divide the mixture into 8 parts. Using your hands make a ball from each part. It works best if you dampen your hands before doing this. Place the balls on a plate and put them in the fridge for at least 15 minutes so they cool down well.
Bring a good amount of water to a boil in a large saucepan. Use a slotted spoon to add the dumplings to the water. Cook them until they rise to the top. That's when the dumplings are ready.
Serve the vegetarian dumplings with the stewed peppers and garnish the dish with fresh curly parsley.
Related salads chosen by others
Celery and prawn salad
Average 3 of 5 stars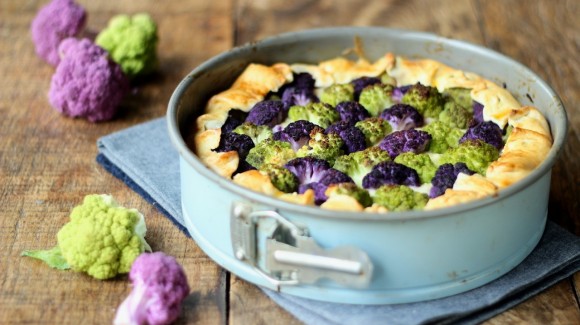 Two colour cauliflower pie
Average 3 of 5 stars
Roasted Brussels sprouts with balsamic, cranberries and pecan nuts
Average 3 of 5 stars