Think about Valentine's Day, think about Mother's day, think about your child taking a birthday treat to school or just think about a delicious starter or snack… heart shaped on a skewer! To create these unique skewers we combined crunchy mini cucumbers with lovely red hearts made of Roma tomatoes and creamy mozzarella.
These skewers can be used for any occasion as they will spread love around…time after time; lunch, a snack, Valentine or your birthday party… this skewer gives you an excuse to celebrate! Easy to make, heavenly yummieeee and still so unique! Surprisingly enough baby cucumbers go hand in glove with the typical caprese ingredients, as if they have always been part of the caprese deal. You will immediately notice everyone loves baby cucumbers… delicious on their own but even better when combined with pesto and caprese!
Preparation
Mix 30 grams of basil, the Parmesan cheese, the pine nuts and extra virgin olive oil (to your own taste) into a pesto in a food processor. Season with salt and pepper.

Trim or cut off the baby cucumber ends and cut them in half crosswise. Then cut both halves diagonally in half and turn 1 of the 2 pieces 180 degrees until you have a heart.

Cut the tomatoes in half and make hearts out of them as well.

Thread onto the skewer as follows: 1 tomato heart, 1 basil leaf (or half a basil leaf if it is a large leaf), 1 mozzarella ball, 1 basil leaf, 1 cucumber heart, 1 basil leaf, 1 mozzarella ball, 1 basil leaf and 1 tomato heart.

Do the same with the other skewers. Serve all skewers on a nice plate or tray. Garnish with some of the homemade pesto and serve with the rest of the pesto. You can also add extra grated Parmesan cheese as a garnish.
Related salads chosen by others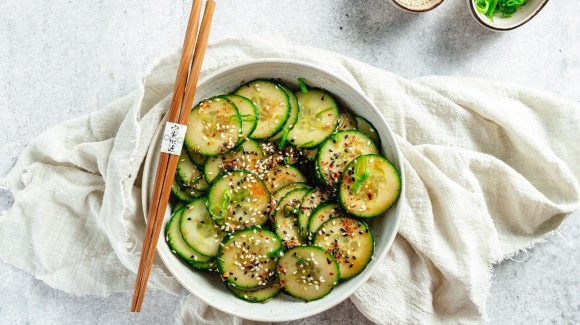 Korean cucumber salad (oi muchim)
Average 3 of 5 stars
Vegetable snacks with avocado hummus and red beet caviar
Average 3 of 5 stars
Vegetable sushi with quinoa
Average 3 of 5 stars