Many people think Indian cuisine is all about creamy, meat-heavy curries. But the truth is that in rural India, where I come from, it is actually salads, like this baby spinach "palak" full of fresh flavours that take centre stage on the dinner table. This salad is brilliant on hot summer nights, but I happily eat it all-year-round. The key is the spicy but refreshing dressing. The combination of virgin oil, orange juice, garam masala, ginger, garlic salt, sugar, chilli powder and black pepper is simply divine. We eat the salad before the main meal, like an appetiser.
I remember many special events where the community would gather together around huge platters of vegetable and fruit salads. There would be lots of finely sliced cucumber, onion, carrot, tomatoes, apple, cherries and radish (with seasonal variations such banana, papaya and peaches). The salads were dressed with a light, simple dressing of lemon, salt, green chillies, ginger and ground coriander seeds. Yum!
I could share so many delicious Indian salad recipes, but my absolute favourite is my mother's Baby Palak (Spinach) Salad. The fresh field flavours of the spinach and cucumber are brought out by the Indian spices. There are many local variations: some people add radish (especially in the cooler months), almonds, grapes or black olives. Served with a samosa, this is Indian food at its (healthy) best!
Preparation
Mix the salad ingredients
Mix the dressing well and pour over salad
Serve and enjoy!
Related salads chosen by others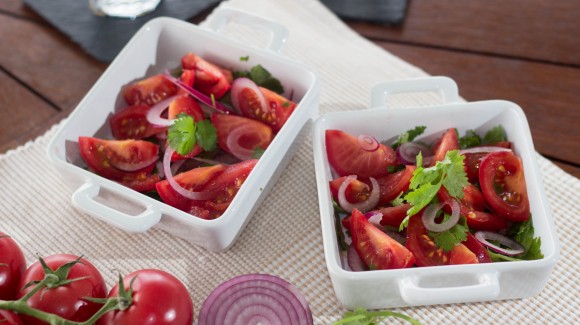 Tomato, coriander and red onion salad
Average 3 of 5 stars
Indian carrot salad with radish, cumin & cinnamon
Average 3 of 5 stars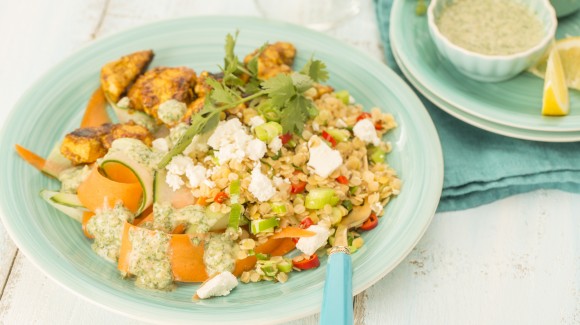 Lentil salad with chicken tikka
Average 3 of 5 stars