Here's the secret to a feel-good barbecue
Backyard barbecues are a playground for adventurous cooking. The sizzle of the grill combined with a relaxed outdoor ambience and a cold drink in hand creates the perfect opportunity to experiment with contemporary flavours and have fun. One simple way to tap into adventurous cooking is to give your favourite vegetables some love and attention on the barbecue. Create mouth-watering vegetables steaks and you will stand out from the crowd by showcasing forward-thinking flavours to your friends.
The grill is an amazing cooking tool. It's perfect for cooking meat as it seals in juiciness and introduces a perfect smoky hint. Using the grill to cook vegetables works in exactly the same way.
I was introduced to the concept of veggie steaks at a backyard summer event last year. A humble plate of eggplant fresh from the barbecue had me instantly hooked. The perfect balance of smoky, tangy and fresh inspired me to start experimenting with the grill.
These next three recipes come to you from my alfresco cooking experiments, where uplifting flavour palates are paired with a range of grilled vegetables. Sure, the idea of a barbecue to celebrate veggies might confuse a few guests, but there's magic to be found in cooking that goes beyond the ordinary. So give these grilled vegetable wonders a try, you won't believe the result.
Grilled zucchini with the perfect marinade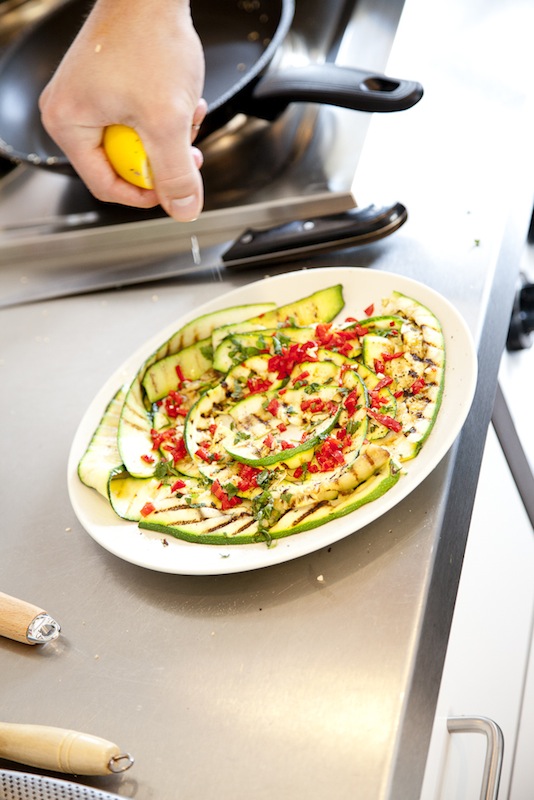 Start simple with grilled zucchini. It's among the most common vegetables to appear at a barbecue, but that doesn't mean it can't be transformed into something fresh and exciting. The secret is the marinade. With a distinct spongy texture and subtle taste, zucchini is perfect for taking on different flavour profiles. To do justice to this vegetable, slice the zucchini lengthways and lightly brush with the marinade. Leave for at least 15 minutes before grilling.
Try these:
Sambal, garlic and olive oil: Combine olive oil with crushed garlic and sambal chilli paste to taste.
Lemon zest and olive oil: Combine olive oil with crushed garlic and fresh lemon zest.
Bonus: Top with your favourite herbs like basil or oregano. Or add the grilled zucchini to a lush spring salad that features leafy greens, radish, snow peas and asparagus, like this one.
Eggplant steaks with miso glaze, pomegranate and mint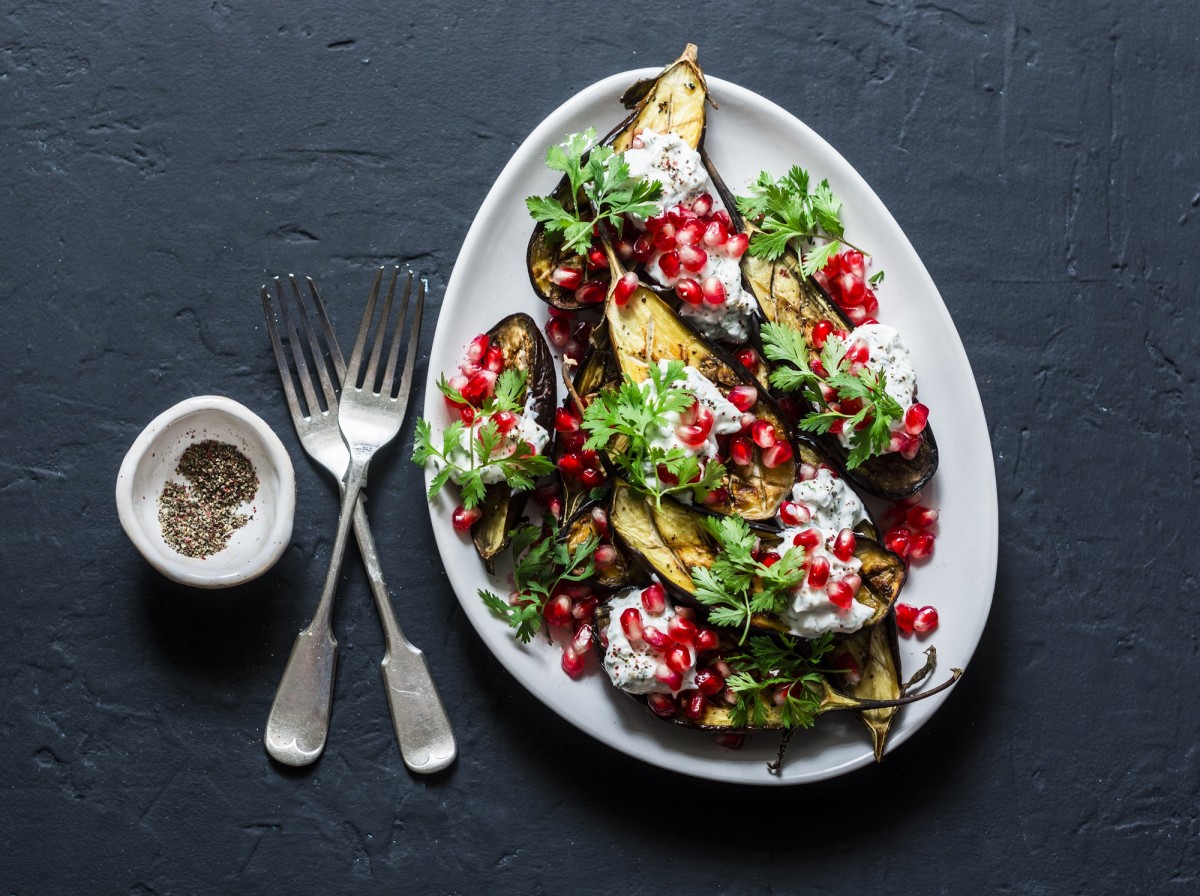 Miso, eggplant and pomegranate are a match made in heaven. A recipe included in Meredith Gaston's book The Art of Wellbeing inspired the combination. The miso paste provides a rich glaze and the pomegranate and mint leaves lift the flavour profile up a notch. After falling in love with this recipe, I keep my fridge stocked with miso paste just in case.
I struck gold the first time I made this. Pomegranates were in peak season and I picked some up from the local farmer's market – the freshest I've ever tasted. The crisp tartness of the pomegranate balances the rich profile of this dish, however, you can substitute with fresh raspberries or a generous squeeze of lemon.
Get to know the recipe for yourself here.
Grilled cucumber salad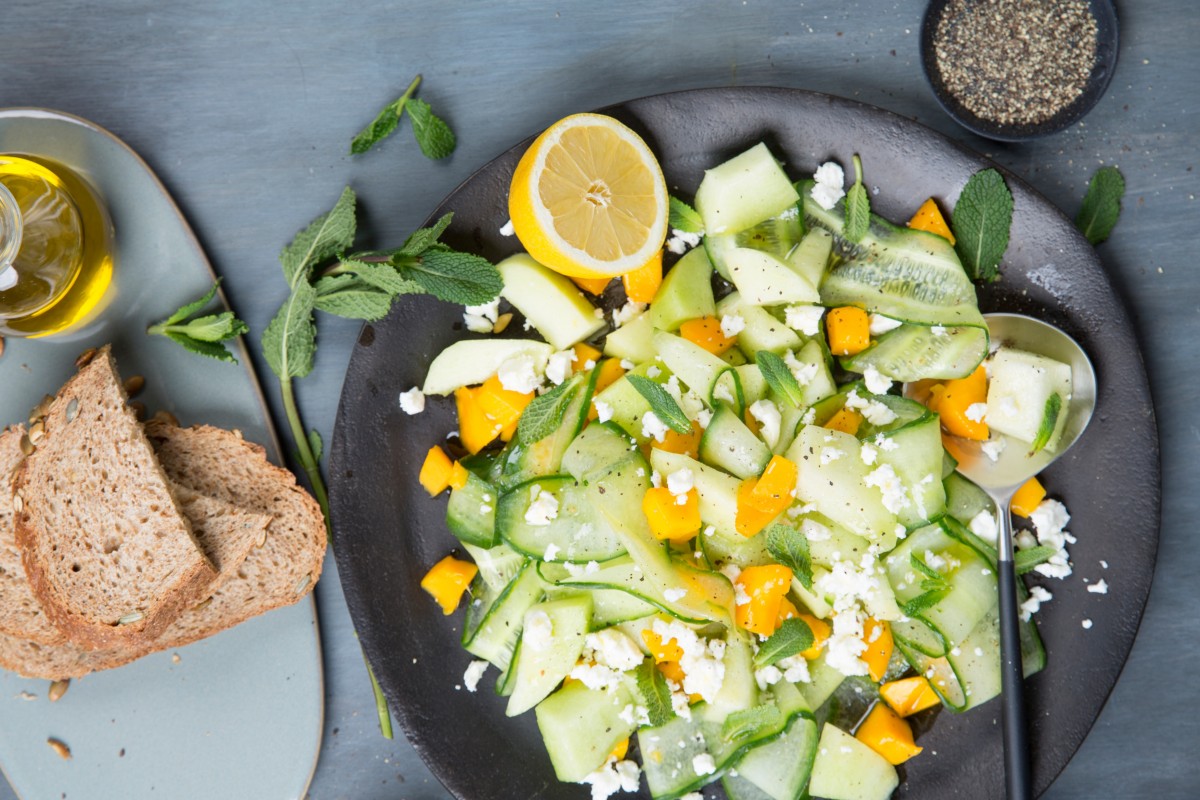 You wouldn't expect cucumber to end up on the grill but it works. It's a perfect fit for a summer barbecue, even better if you shake up some cucumber infused mojitos on the side. The best part is watching the expressions on your guests' faces, as they turn from perplexed to pleasantly surprised once they taste the result. To make this dish happen, slice the cucumber into quarters, lengthways. Lightly brush with a simple marinade – both the lemon or sambal marinade from above work well. Grill over moderate heat, turning until the cucumber is lightly crisp on the sides.
Then add to a summer salad with a few sprigs of basil, just replace the raw cucumber with the grilled pieces. Like this vibrant melon, mango, cucumber, mint and feta salad.
Or this one: A Lebanese -style fattoush salad.
Our top three tips for perfectly grilled vegetables:
Appeal: Cook over moderate heat and flip once for the perfect grill lines.
Marinade: Allow your veggies to marinate for at least 15 minutes before grilling.
Flavour: For extra flavour and glaze, lightly toss in olive oil or your favourite vinaigrette after grilling.