For some reason I've always placed aubergine in the 'too hard' basket. I love its creaminess and half smoky, half tangy taste. But when I tried cooking eggplant myself I could never recreate the soft and gooey texture that makes this vegetable so appealing. That was until I stumbled upon this recipe.
Trying new flavours is often a sensual experience, starting the moment you read the ingredient list and your taste buds begin to fizz with excitement. This happened to me when I read the recipe for grilled aubergine in the book The Art of Wellbeing. I knew the combination of grilled aubergine, miso glaze, pomegranate and mint would conjure up something special. I found using the grill or frying pan cuts the confusion about how to cook eggplant, turning it from supple to soft within minutes. It looks impressive too. Like juicy seared steaks with picture-perfect grill lines.
This dish has a bit of twin character to it: elegant and sophisticated yet surprisingly meaty and ultra-filling. Pomegranate seeds and mint leaves are well utilised, adding bursts of freshness to round out the salty glaze. It's perfect as a main meal; just add rice and some lightly dressed lettuce on the side.
Follow the steps below to recreate this recipe to your liking. Every time I make it I find new ways to improve the formula, so don't be afraid to try something different.
Preparation
Slice the aubergine thinly, into 1cm thick slices.
Combine miso paste with hot water and whisk until smooth. Brush eggplant with miso glaze and leave for 10-15 minutes to marinate.
Meanwhile, remove pomegranate seeds by rolling on the table to loosen seeds from pod. Slice in half and tap the skin with a spoon to release the seeds.
Combine dressing ingredients and whisk until smooth. Set aside.
Lay aubergine on grill or frying pan on medium/high heat. Cook for five minutes each side, until soft and lightly browned.
Lay grilled aubergine slices on a platter. Drizzle the dressing over and top with pomegranate seeds and fresh mint.
Season to taste and serve.
Related salads chosen by others
Elegant eggplant salad with saffron yoghurt and pomegranate
Average 3 of 5 stars
Red onion, capsicum (pepper), and chilli chutney
Average 3 of 5 stars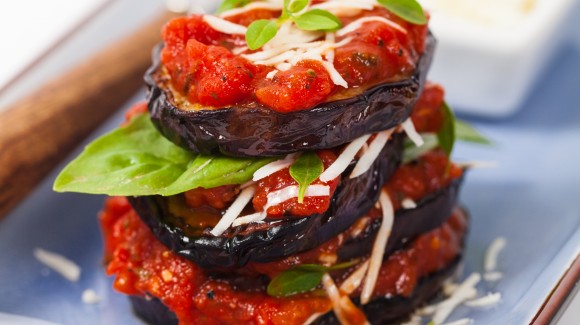 Eggplant turrets
Average 3 of 5 stars