Salads don't need to take a long time to prepare. A fresh tomato salad with spring onions and tasty Italian herbs can be whipped up in 5 minutes.
Preparation
In a salad bowl, whisk the Italian seasoning with the olive oil and vinegar until it has a creamy consistency.
Cut the cocktail tomatoes into quarters and gently mix with the salad dressing.
Thinly slice the spring onions.
Just before serving, combine the spring onions and rucola with the tomatoes and dressing.
Tips from the author
Variation:
Substitute the spring onions for fresh basil leaves.
Add approximately 100g of croutons for an authentic Tuscan 'bread salad' (panzanella).
Add 2 - 3 tablespoons of (lightly roasted) pine nuts.
Replace the rucola with tender lettuce or lamb's lettuce.
Related salads chosen by others
Grilled squid with Thai wild rocket salad
Average 3 of 5 stars
Wild rice salad with mango and tomato
Average 3 of 5 stars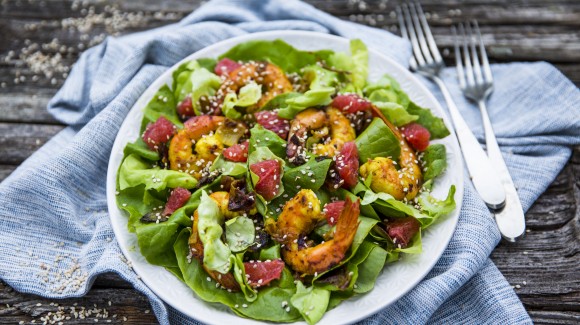 Spicy shrimp salad with pink grapefruit and sesame seeds
Average 3 of 5 stars