Italians love their panzanella - a simple salad with crusty bread! It goes so well with fresh ripe tomatoes and olive oil. The best salads are the simple ones like this using left over bread. Simply toast or bake the bread in the oven and combine with your fresh ingredients and you will think you are sitting in an Italian Tuscan restaurant no matter where you are!
Preparation
1. Preheat oven to 200 celcius. Toss the torn bread with a drizzle of olive oil to moisten and spread out on a baking tray, seasoning with salt and pepper. Toast until golden brown for 10-15 minutes, stiring occasionally, remove from oven and set aside to cool.
2. In a large bowl, whisk together the olive oil, vinefar, lemon juice, parsley and salt.
3. Fold in the bread, tomatoes, onion, olives and basil. Enjoy!
Tips from the author
This salad can be served as a starter for 4-8 people. Shared by Blush - the tomato lovers tomato who recommend to use Blush tomatoes if you live in Australia!
Related salads chosen by others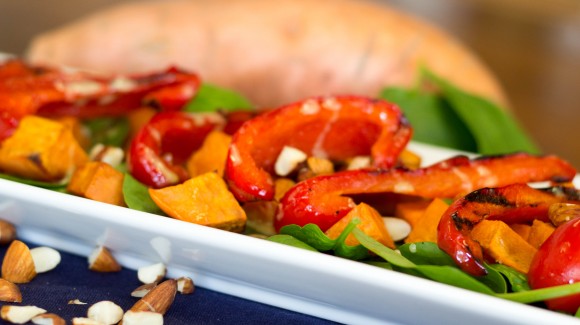 Spinach and sweet potato salad
Average 3 of 5 stars
Russian Summer Salad
Average 3 of 5 stars
Caesar salad with endive and grilled bell pepper
Average 3 of 5 stars