Rhys Gard, the head chef at Maverick Café in Narrabri, NSW, Australia, says it's important to source ingredients locally. "This is integral to my food ethos – keep everything as local and fresh as possible." In a small space at the cafe basil, lemon basil, garlic chives, sage, mint, rosemary, chillies and strawberries are grown. Customers often see Rhys slip out the side door mid-service to grab something for a dish. I hope you will enjoy this favourite sweet potato and lamb salad from Rhys.
Preparation
Slow cook the lamb in oil, garlic and rosemary at a low temperature (around 140 degrees) for 6-8 hours. You really want the garlic, salt and rosemary to infuse into the meat. Keep it covered with foil. After 6-8 hours, remove the lamb from the oven and pull the meat from the bone.
Cube the sweet potato and shallow fry in olive oil. Then bake in the oven for 10 minutes. You want the potato to be crisp on the outside and soft on the inside.
Next cube the beetroot, sprinkle salt and good quality balsamic over the beetroot and cook covered in foil in the oven until ready.
Stir-fry the beans in olive oil and then add a daub of butter to finish. Omit the butter for a healthier option.
Place the fresh rocket, washed, into the bowl. Rest the sweet potato, beetroot and green beans and when warm, layer on top of the rocket leaves. Crumble the Danish feta on top.
Whisk the salad dressing together. Keep it simple. Taste until the flavour is balanced. Add the warm lamb to the top of the salad. Drizzle with the dressing. Let it mix through the salad. Garnish with some fresh coriander.
Tips from the author
In the last eight years, the From Paddock to Plate (FP2P) food education network in Australia has grown rapidly thanks to events like the annual Narrabri Show in rural NSW. This is where you will find former rugby league legend Andrew Ettingshausen dressed in a FP2P apron ready to fillet a magnificent Murray Cod from the Narrabri Fish Farm and Chief Maverick (aka Rhys Gard) cooking up a storm on the FP2P stage with local Wattle Vale beef, Dalman Downs Dorper (3D) and Bilgamma Dorper lamb. Full story on the FP2P website
Recipe courtesy of head chef at Maverick Café in Narrabri NSW, Rhys Gard.
Related salads chosen by others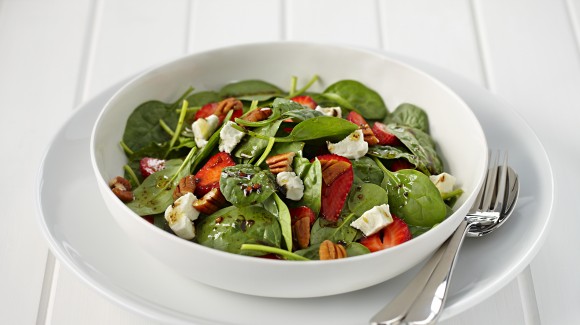 Spinach Salad with Strawberries and Pecans
Average 3 of 5 stars
Cos and kale salad
Average 3 of 5 stars
Custard apple or 'sweetsop' salad
Average 3 of 5 stars