Time for pitta bread! And no ordinary pitta bread at that: the pitta bread in this recipe is filled with deliciously tender, marinated slices of aubergine and a crisp chickpea and cucumber salad. Quite different to pitta bread with falafel!
Did you know that aubergines are really easy to marinate? Because of their open texture, these purple fruits marinate very well. That means you can add all sorts of flavours to them. This recipe uses a marinade of oil, agave syrup, chili pepper and herbs such as oregano and aniseed-flavoured fennel seeds. The result: a versatile marinade that really does wonders for aubergine.
Make a crisp cucumber and chickpea salad to go with it. The mint adds a refreshing flavour which is ideal for hot summer days. But you can also serve this marinated aubergine with chickpea and cucumber salad on cold winter days or rainy days in autumn. The added benefit? This recipe is completely vegan, so everyone can enjoy it!
Preparation
Remove the seeds from the chili pepper and chop very finely. Finely chop or crush the cloves of garlic.
Now make the marinade. Combine the olive oil, agave syrup, oregano, fennel seeds and white wine vinegar in a large casserole. Add the garlic and chili pepper and plenty of salt and pepper.
Slice the aubergines thinly and then halve the slices. Combine the slices of aubergine with the marinade in the casserole. Set aside (you can do this up to an hour before, but put the casserole in the fridge in that case).
Thinly slice the red onion into half rings. In a bowl, mix them with the white wine vinegar and the sugar, then set aside.
Quarter the cucumber and then chop. Drain the chickpeas. Remove the mint leaves from their stalks and chop them roughly. Mix the cucumber, chickpeas and mint together in a bowl.
Heat the pita bread according to the instructions on the pack. Wrap them in a tea towel to keep them warm and soft.
Pour the marinade from the casserole onto the cucumber and chickpea mixture. Toss the salad. Season to taste with salt and pepper.
Heat a frying pan or grill pan on a high heat and fry the slices of aubergine on both sides until golden and cooked through.
Fill the pita breads with the grilled slices of aubergine and the chickpea salad. Serve immediately.
Pin the image below to save this recipe to one of your Pinterest boards: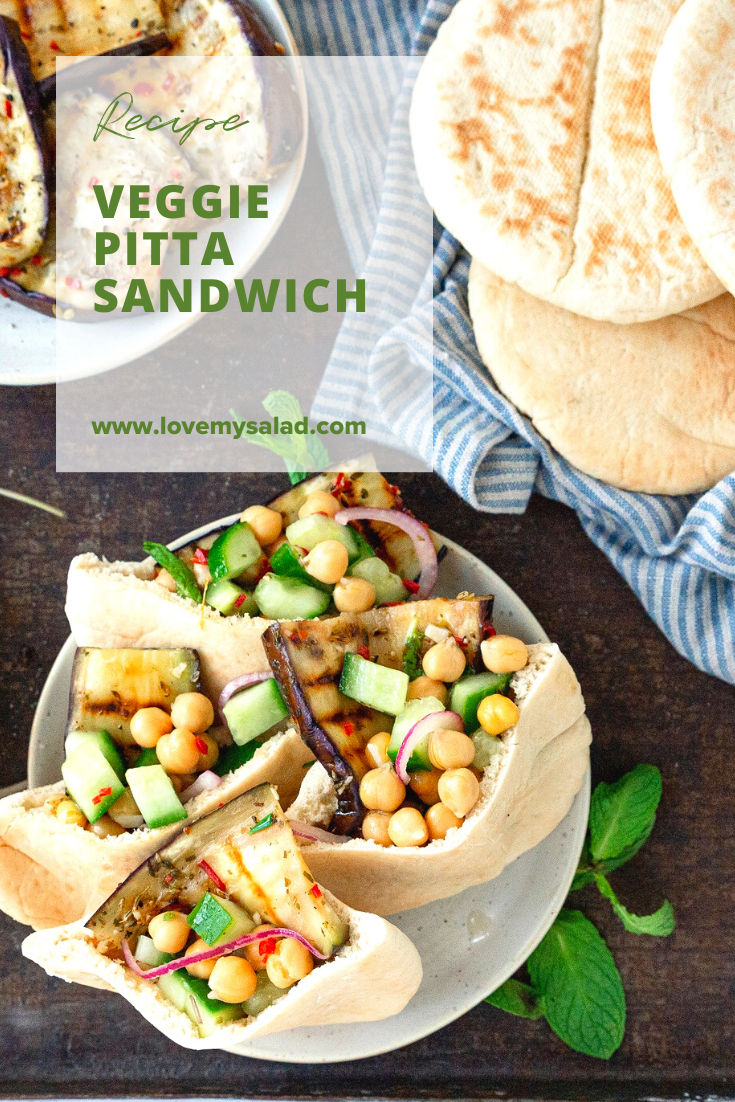 Related salads chosen by others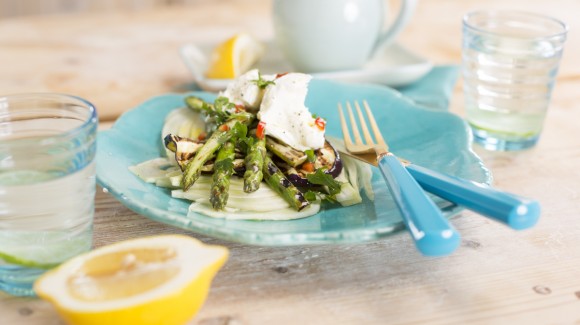 Grilled eggplant asparagus and fennel salad
Average 3 of 5 stars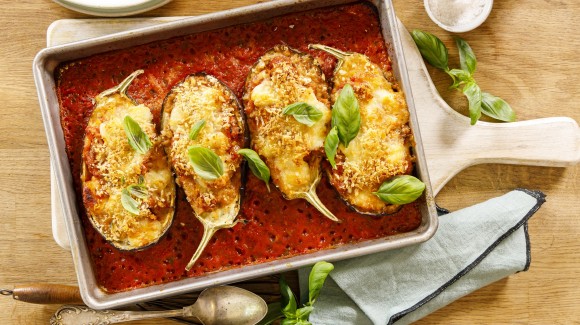 Stuffed aubergine with bolognese sauce and mozzarella
Average 3 of 5 stars
Eggplant salad with carrots and orange
Average 3 of 5 stars