These avocado hummus and red beet caviar dips are versatile and can be used with so many snacks, including veggie sticks like kohlrabi, carrots and capsicum.
Preparation
Peel the kohlrabi and cut them in sticks.
Cut the capsicum and carrots in strips. And slice the cucumber.
Red beet caviar
Ingredients:
4 beets (cooked)
1 tsp cumin seeds
1 clove of garlic
2 tsp cinnamon
300 g chickpea's (cooked or from a can)
3 tbsp lemon juice
2 tbsp olive oil
salt and pepper

Preparation red beet caviar:
Peel the beets and cut them in chunks. Roast the cumin seeds in a dry pan.
Put all the ingredients in a blender and blend until you have a smooth spread. Bring to taste with salt and pepper.
Avocado hummus
Ingredients:
300 g chickpeas (cooked or canned)
2 avocado's, peeled and without pit
3 tbsp olive oil
1 1/2 tbsp tahin
3 tbsp lime juice
1 clove of garlic, sliced
1 ttsp cumin
2 tbsp fresh cilantro
salt and pepper
½ tsp of chili flakes
Preparation avocado hummus:
Blend the chickpeas, avocado, olive oil, tahin, avocado's, olive oil, lime juice, garlic, cumin and fresh cilantro in a blender. If the hummus is not smooth enough, add some extra olive oil or water and blend again. Bring to taste with salt and pepper. Add the chili flakes on top of your hummus when serving.
Serving
Serve your snack veggies with the two dips in different bowls. These veggie snacks are great as an appetizer or go well with a beer or a glass of wine.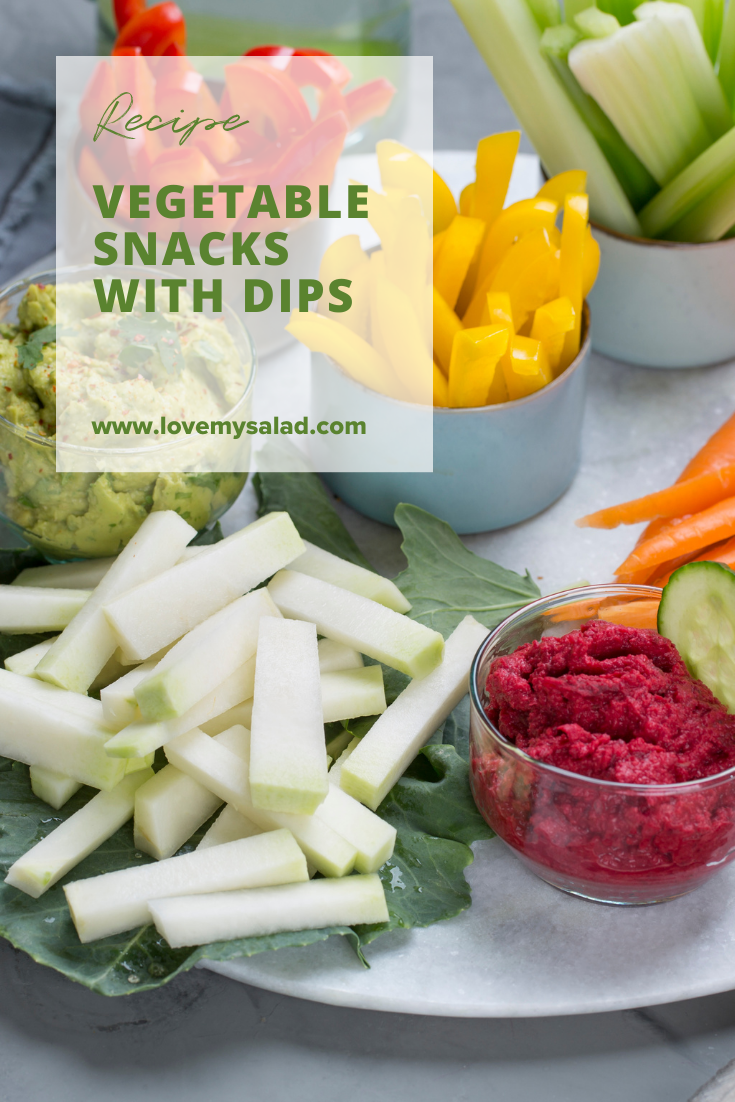 Tips from the author
Other vegetables that go well with these dips: radish, courgette and daikon.
Related salads chosen by others
Tzatziki with saffron and yoghurt
Average 3 of 5 stars
Sweet capsicum and nut dip
Average 3 of 5 stars
Qukes® baby cucumbers teriyaki beef bowls
Average 3 of 5 stars