Having an easy vegan curry recipe in your repertoire is always worthwhile, certainly when it's a curry full of vegetables like this one. Aubergine, mushrooms, tomatoes, squash and spinach jockey for position in this vegan curry. It's a fantastically easy way of making sure you get your daily portion of vegetables and you don't even have to work hard to make it! This curry is easy-peasy to make!
Garnish the curry with fried slivered almonds to give the whole thing a lovely crunch and a creamy touch. And talking of creamy: the coconut cream plays its part too. What more could you wish for?
Preparation
Boil the rice according to the instructions on the pack.
Chop the onion and chop or crush the garlic finely. Grate the ginger. Quarter the aubergine and then chop into pieces. Roughly chop the mushrooms.
Heat some oil in a large frying pan or sauté pan over a medium heat. Gently fry the onion, garlic and ginger until the onion is translucent.
In the meantime, heat some more oil in another large frying pan over a medium heat. Fry the mushrooms and the aubergine until brown. Give them plenty of time.
Add the curry spices to the onion, garlic and ginger and fry for 1-2 minutes. Add the chopped tomatoes. Fill the tin half-full of water and tip it into the pan. Add the diced squash, bring to the boil and turn the heat down low. Cover the pan with a lid and cook the diced pumpkin for 15-20 minutes until tender.
Heat the margarine in a small frying pan and fry the slivered almonds until brown and crunchy. Remove from the pan and drain on kitchen paper.
Add the spinach, a handful at a time, to the pan containing the squash. Allow the leaves to wilt before adding the next handful. Stir well.
Add the aubergine and mushrooms to the squash mixture and the stir in the coconut cream. Season to taste with salt and pepper.
Serve the vegan vegetable curry with the rice and garnish with the crunchy slivered almonds.
Pin the image below to save this recipe to one of your Pinterest boards: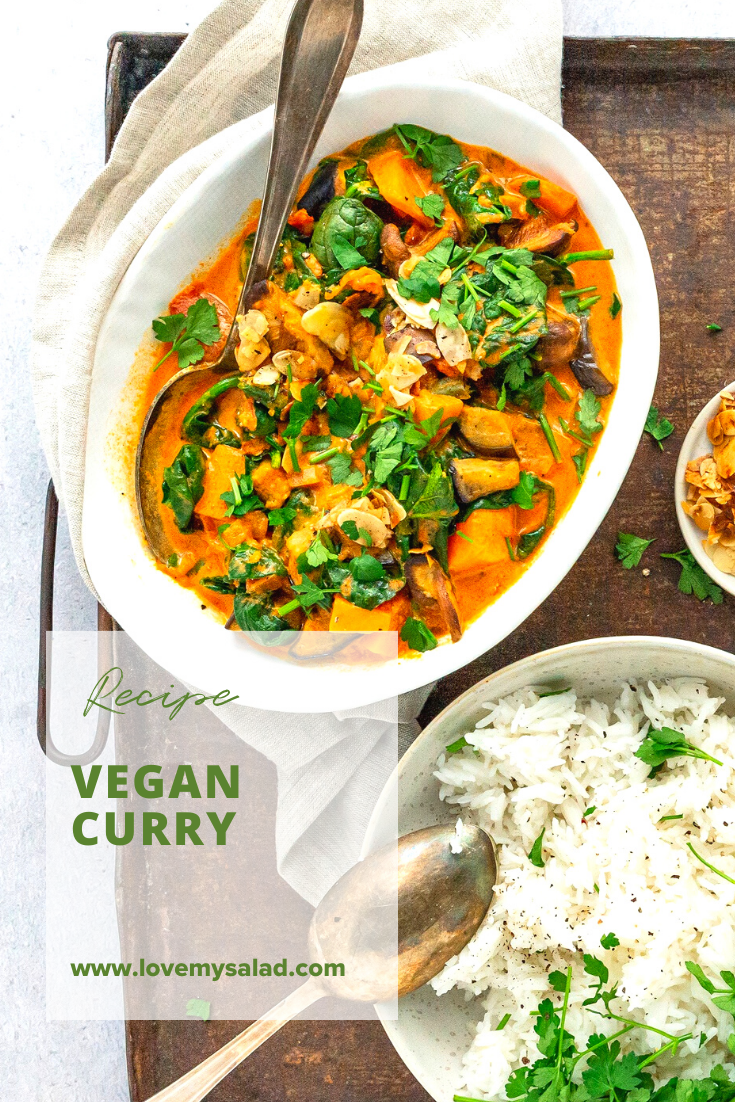 Related salads chosen by others
Mini aubergine pizzas with cherry tomatoes, mozzarella and basil
Average 3 of 5 stars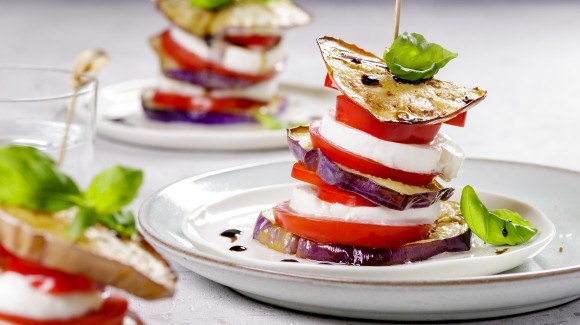 Grilled aubergine stacks with mozzarella and tomato
Average 3 of 5 stars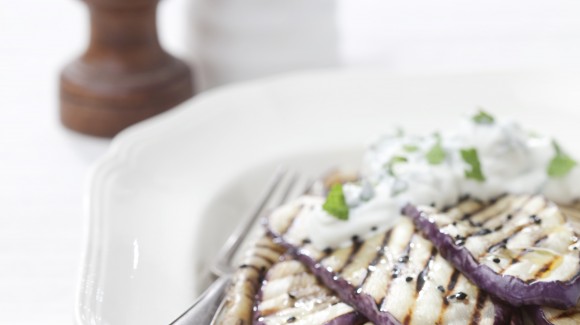 Grilled aubergine with fresh mint yoghurt
Average 3 of 5 stars