Coleslaw is traditionally a raw salad whose main ingredients are white cabbage and carrot. High time for a tasty and colourful variant with (watermelon) radish, celery, and apple! The cubes of pink radish look a bit like ham cubes, but it a real vegan dish right down to the mayonnaise.
In keeping with the cabbage origin of coleslaw, I have chosen radish. Radish is a cabbage crop and provides the spice in this vegan coleslaw. Celery is very aromatic and spicy. Together with apple, it is a delicious flavour combination!
In a traditional coleslaw recipe, the vegetables are grated or cut in thin strips (julienne). To make this vegan coleslaw recipe, you dice the radish, celery, and apple. Super quick and easy. Always make sure you use a good sharp knife. It may sound crazy, but it is safer!
It is best to make the vegan coleslaw half a day in advance so all the flavours can come into their own.
The colourful watermelon radish is generally available in winter from the greengrocer. Don't hesitate to ask for it. If it is not available, just use ordinary radishes instead.
Preparation
Wash the fruits and vegetables. Dice the celery, radish, and apple.
Mix the vegan mayonnaise with the vegan quark, vinegar, lemon juice and agave syrup. Season with salt and pepper.
Pour the dressing over the fruit and vegetable mixture and leave to infuse for at least half an hour. You can also leave it overnight. In that case, store in a sealed container in the fridge.
Just before serving, cut the spring-onion into small rings and snip the fresh herbs. Mix these through the salad together with the nuts.
Spoon the salad into a serving bowl. Garnish with some of the fresh ingredients, nuts, and herbs because these are too gorgeous not to be seen.
Enjoy your meal!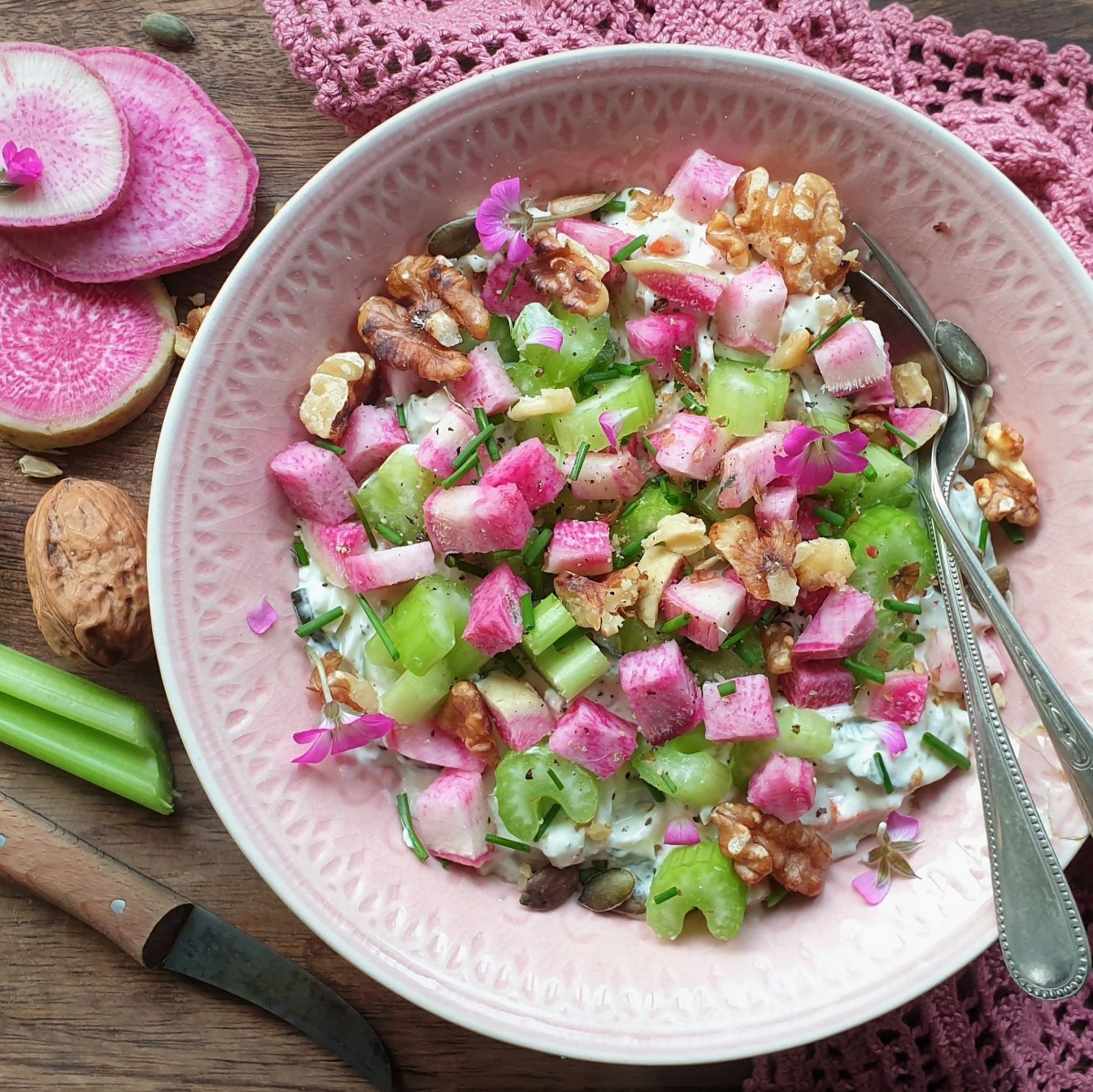 Tips from the author
The vegan mayonnaise is very easy to make. Mix 100 ml of unsweetened soy milk on high speed in a food processor, with 1 tablespoon lemon juice, 2 tablespoons wine vinegar, 1 teaspoon mustard powder, ½ teaspoon salt and 1 tablespoon agave syrup. When well combined, add 200 ml of sunflower oil in a thin drizzle at a lower speed. Mix until a light and airy mayonnaise is formed.
Related salads chosen by others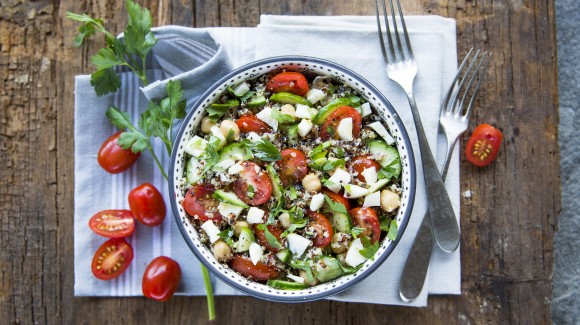 Quinoa with chickpeas, cucumber, tomato, and parsley
Average 3 of 5 stars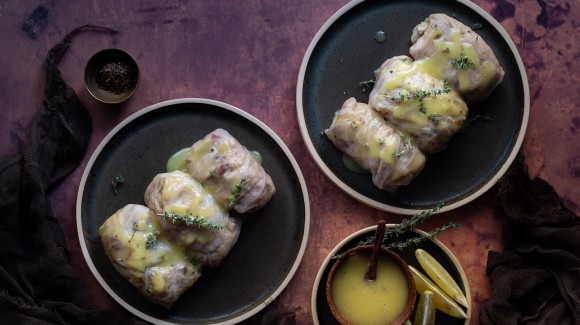 Stuffed cabbage rolls with shiitake mushrooms and rice
Average 3 of 5 stars
Vegan Sunday Roast with Romanesco, purple cauliflower pickles and fried onion gravy
Average 3 of 5 stars