This is a new take on the traditional potato salad and can be made prior to guests arriving. It also transports well so this recipe full of wonderful hearty vegetables is particularly useful if you are asked to bring a salad.
Preparation
Cook the potato in a pot of salted water until just cooked. Drain and cool. Then heat 1 tablespoon of oil in a pan and saute parsnip until coloured. Reduce heat. Add 1 tablespoon butter and cook until tender. Allow to cool. Repeat this step for the pumpkin.
Heat another tablespoon of oil in a hot pan and sear tomatoes until the skin blisters. Remove from pan and allow to cool.
Now blanch silverbeet in a pot of salted water for 10 seconds. Drain and refresh in iced water. then drain again and squeeze to remove excess water.
Heat a further tablespoon of oil in a moderate pan, add sliced onions and start caramelising. Once coloured, add red wine vinegar and continue to cook until the vinegar evaporates. Allow to cool.
Combine mayonnaise, sour cream, and yoghurt in a large bowl. Add salt and pepper to taste and whisk. Add potato, parsnip, pumpkin, parsley, and mint. Gently fold together.
To assemble:

Line a bowl or 20cm cake tin with cling film.
Decoratively arrange some of the silverbeet, tomato, and Spanish onion on the base then cover with 1/3 potato mix.
Continue layering ingredients until finished.
Cover with cling film and press to compact.
Refrigerate until needed.

To serve:

Place spinach on serving plate.
Remove cling film.
Invert salad onto spinach.
Remove remaining cling film.
Scatter seeds over and around the salad.
Garnish with Nasturtium and edible flowers.
Related salads chosen by others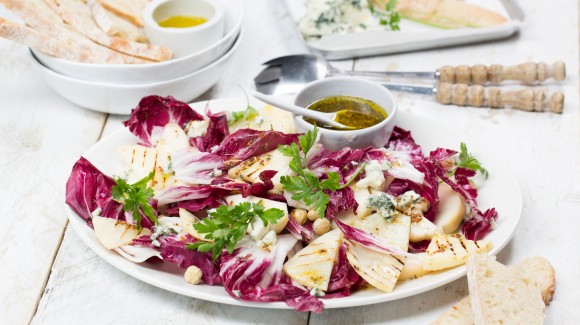 Grilled celeriac salad with pear and blue cheese
Average 3 of 5 stars
Baby gem hearts with roasted peppers and anchovy dressing
Average 3 of 5 stars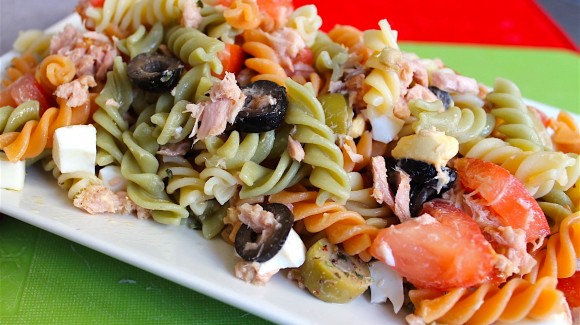 Pasta salad with egg, tuna, tomato and olives
Average 3 of 5 stars