This recipe has some Asian influences. The combination of tomatoes and sugar snaps with the spicy coconut dressing and lime juice is surprising but delicious! Enjoy!
Preparation
The dressing:
Slowly bring the coconut milk to the boil then allow to cool down before adding the chopped spring onion, red chili pepper and lime juice. The dressing should be quite strong in taste so give a good pinch of salt and pepper. Taste the dressing and adjust to your liking.
The salad:
Stir-fry the onion rings until they are golden brown and allow to drain on kitchen paper. Add a pinch of salt. Next stir-fry the sugar snap peas in sunflower oil in the same hot pan for approximately 1.5 minutes - not too long as they should remain fresh and crispy.
Cut the tomatoes into thick slices then toss together with the sugar snap peas and serve on a large sharing plate (or individual bowls). Generously spoon over the coconut and chili dressing. Garnish with fried onion and sesame seeds.
Related salads chosen by others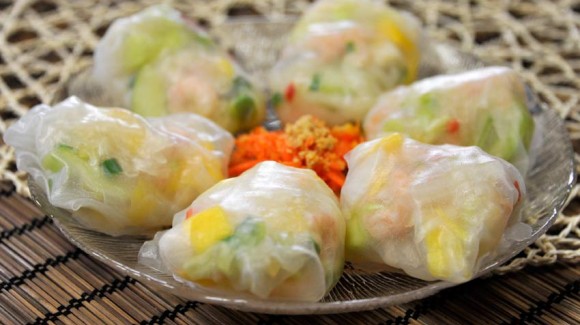 Vietnamese style salad wraps with prawns
Average 3 of 5 stars
Stir-fried cucumber with vegetables and rice
Average 3 of 5 stars
5 minute fresh tomato salad
Average 3 of 5 stars