A perfect recipe for an Asian inspired dinner or at your next BBQ. This Korean carrot salad is light and spicy. It's even tastier if you prepare it one day ahead.
Preparation
Wash and peel the carrots and cut them in small strips. Season the carrots chilli and coriander.
Pour the soy sauce, the vinegar and lentils on the salad and mix well.
Chop the onion in slices and crush the garlic clove.
Heat the olive oil in a frying pan and stri-fry the onion and the garlic till they will get a nice golden colour.
Allow to cool before mixing through the carrot salad. Serve.
Tip you can keep in the fridge overnight if you want to prepare this salad ahead of time.
Tips from the author
* A typical chili used in Korean dishes is gochugaru (choo ga roo = chili powder) and the gochuchang (chili paste.)It has a slight smoky flavour, in addition to being slightly sweet but also quite hot. Can be found packaged in good supermarkets or Asian stores. If you can't get this, you can still use another chili powder or paste. (but go easy is you dont like it too hot!)
Related salads chosen by others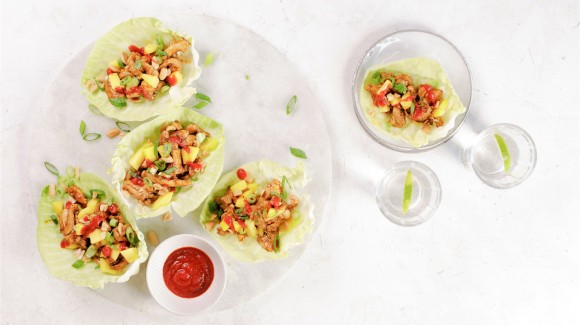 Cabbage wraps with spicy chicken and mango
Average 3 of 5 stars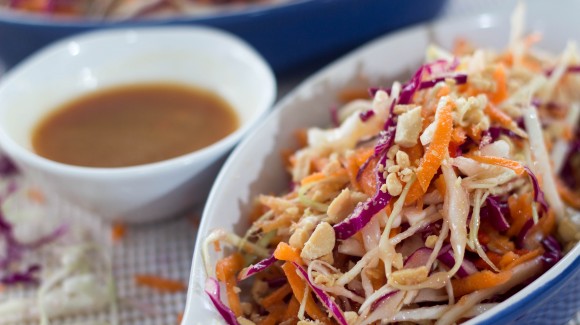 Coleslaw with carrot ginger and spicy soy dressing
Average 3 of 5 stars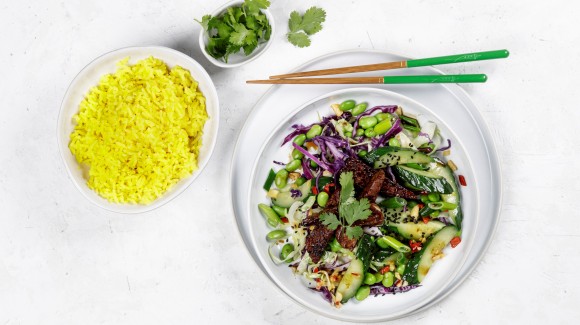 Stir-fry with cucumber, marinated tempeh, pointed cabbage and red cabbage
Average 3 of 5 stars