This combination of grilled Little Gem lettuce, grilled pear and candied walnuts is golden. The great thing about this recipe is that you can grill both the Little Gem and the pear on the BBQ and prepare the candied walnuts and the dressing earlier in the day. Just keep the dressing in the fridge until ready to use.
Preparation
Toast the walnuts with some olive oil in a small frypan (2 min.) then add sugar and maple syrup and stir through until these fully coat the walnuts.

Cool the walnuts on baking paper. When cool, finely grind the walnuts with a mortar and pestle.

Make the dressing by mixing the yogurt, mayonnaise, and lemon juice. Add finely chopped parsley and the lemon zest to the dressing. Season with salt and pepper if necessary.

Cut the Little Gems in half and slice the pear (not too thinly, because you must be able to turn them over on the grill).

Brush the lettuce and pear slices with olive oil. Place the Little Gems halves and the pear slices on the grill, turning them over as soon as light grill marks are visible. This happens quickly so do not leave unattended! It is useful to use small tongs or a fork for the pear, so that the slices do not fall between the grill.

Place half a Little Gem and a few slices of grilled pear on each plate. Add dressing and sprinkle with the candied walnuts.
Tips from the author
Firm lettuce hearts are are great on the BBQ, just brush with some oil and grill. It gives your dish a slightly different taste and appearance.
Related salads chosen by others
Authentic Greek Tzatziki
Average 3 of 5 stars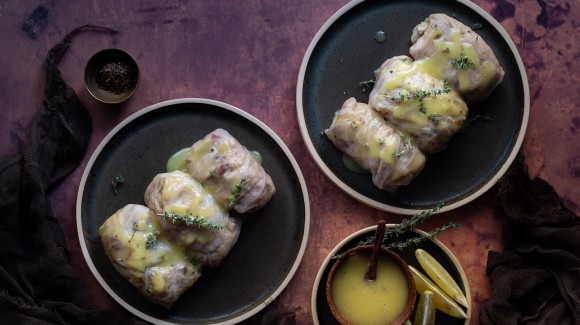 Stuffed cabbage rolls with shiitake mushrooms and rice
Average 3 of 5 stars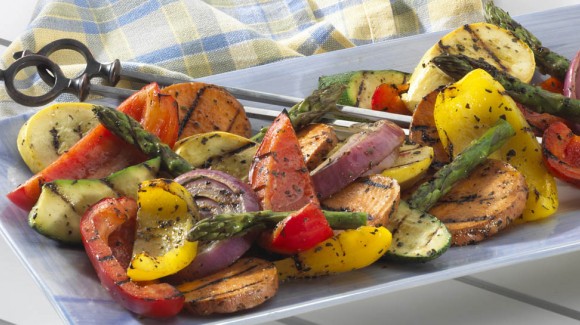 Marinated Vegetables BBQ
Average 3 of 5 stars