The power of simplicity is one of the best ways to live by. Why overcomplicate things when all it takes are the key ingredients in life to keep you satisfied and happy.
This extra crunchy and juicy salad is inspired by this very concept—three core ingredients and nothing else.
There's the watery burst of cucumber, the crunchy sweetness of apple and the mild bite of onion: all mixed together to add a dose of freshness and zing to the dinner table. This salad works well as a light and tangy accompaniment to a heavier main dish such as pork or fish or simply on it's own for an easy snack.
Quick tip: To take away the sharpness of raw onion, dice and rinse under running water for a few seconds and then drain. This will remove the bite and intensify the subtle sweetness.
Preparation
Finely dice the onion.
Grate the apple and cucumber.
Season with salt and pepper to taste.
Finish with a tablespoon of your choice of salad dressing and mix together.
Tips from the author
If you don't have a go-to dressing for this salad: check out our page on the 5 best salad dressings to know by heart.
Related salads chosen by others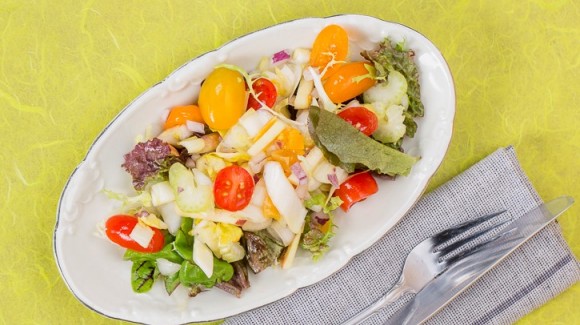 Chicory salad with celery, apple and apricots
Average 3 of 5 stars
Heirloom tomatoes and goats curd salad
Average 3 of 5 stars
Bulgur salad with rocket chicken kiwifruit and almonds
Average 3 of 5 stars