Some dishes come and go but the stuffed pepper with rice, minced meat and chorizo is one to stay. An everyday classic which we are giving a bold twist. We are not only using our delicious sweet pointed peppers, but we are also frying our minced meat in oil which we first used to fry pieces of crispy chorizo.
That little chorizo trick creates a wealth of flavour thanks to the many spices and herbs which are so typical for this Spanish sausage. No fuss with seasoning your dish with additional spices or herbs. Chorizo is already bringing so much flavour to your pointed pepper dish! Simply fry some chorizo cubes (only use a high-quality chorizo) in oil, take them out of the oil and fry your minced meat in the same flavour packed oil. That's it! Such an easy go-to recipe when you want that Spanish touch and when you want to be ready in under half an hour!
By baking the pointed peppers in the oven, upon filling them, the peppers will become deliciously soft and sweeter than ever before. The perfect counterpart to the spicy rice in your pointed pepper. Tons of flavour which will make a great start to your evening!
Preparation
Remove the chorizo casing and dice the sausage.
Heat a large frying pan or skillet with some oil over medium heat. Bake the diced chorizo until crispy and brown. Then remove the chorizo pieces from the pan, but leave the oil in the pan.
Add the minced meat and fry it. Then add the diced tomatoes and fill the empty tomato can with water. Add the water to the pan, along with the vegetable stock cube and the rice. Bring to the boil, put a lid on the pan and then lower the heat. After about 10 minutes, remove the lid from the pan. Cook until the rice is cooked through and tender. Add additional water if necessary. Then season the tomato rice with salt and pepper.
In the meantime, preheat the oven to 180 degrees Celsius (356 degrees Fahrenheit).
Lay the pointed peppers on a chopping board and cut a T shape into them, one by one, with the long part of the T running parallel with the stalk and the top of the T at the thickest part of the pepper. You can now open the pointed peppers.
Place the pointed peppers in a large baking dish. Fill them with the cooked rice. Sprinkle the grated cheese over the pointed peppers and place the oven dish in the oven. Roast for 8 – 10 minutes until the peppers are a bit more tender but still have a bite.
Serve the stuffed pointed peppers with the fried diced chorizo and the fresh, chopped parsley.
Related salads chosen by others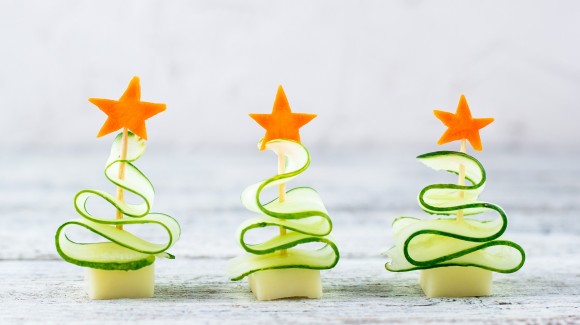 Festive table toppers
Average 3 of 5 stars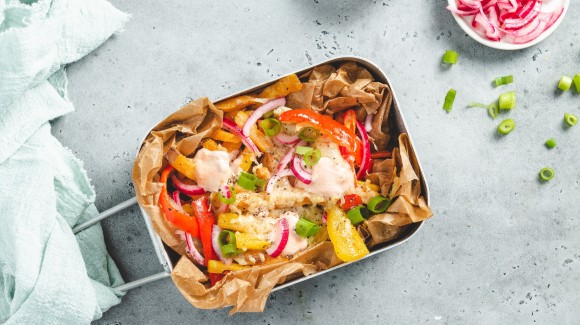 Loaded sweet potato and pointed pepper fries with cheese and sriracha
Average 3 of 5 stars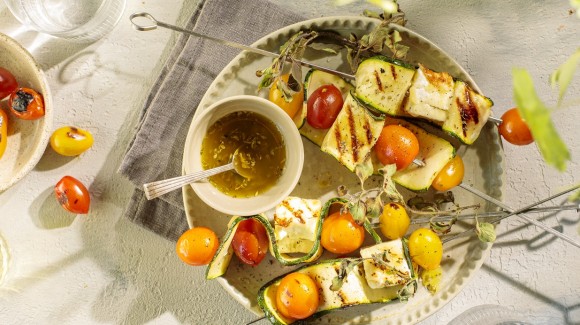 Greek skewers of courgette, tomato & feta
Average 3 of 5 stars