Looking for budget-friendly recipes? Using blocky peppers is a smart way to get started with a cheap meal, they are versatile and not expensive. These stuffed peppers are filled with seasoned rice. You can be creative with the rice stuffing, add leftovers veggies or other delicious herbs and spices that you have in your pantry. Leave behind the pine nuts if you want to save money. Add peas and or corn for extra vegetables. These vegetarian stuffed peppers are a must-try, and as a tip: add a delicious garlic yogurt sauce!
Preparation
Preheat the oven to 180 degrees.
Cook the rice according to the instructions on the package.
Heat the olive oil and fry the onion and garlic. Add the cumin powder, cinnamon powder, and the pine nuts. Fry for about 3 minutes until the spice aromas have been released.
Mix the onion and garlic with the rice.
Fry the courgette for 5 minutes al dente, add the diced tomatoes and raisins, simmer for a few minutes, then add the rice mixture. Mix well and remove from heat.
Cut the tops off the peppers and fill the peppers with the rice mixture and place the tops back on. Put the peppers in the oven and bake for about 20-30 minutes until soft.
Meanwhile, make the yogurt into a sauce with the garlic and parsley. Season with salt and pepper.
Serve the peppers with the garlic yogurt sauce.
Tips from the author
If we may give you a tip, these stuffed peppers with couscous are a good choice as well!
Related salads chosen by others
Spinach and peach salad with bacon and flax seeds
Average 3 of 5 stars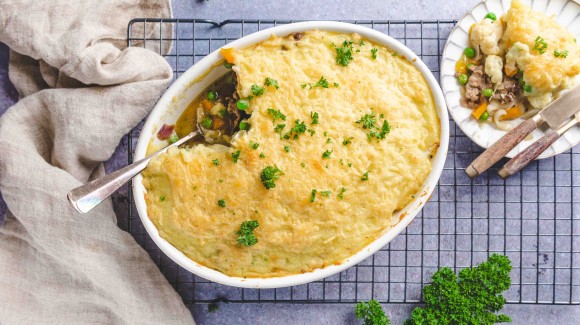 Easy Cottage Pie with Veggies
Average 4 of 5 stars
Rainbow salad with hummus and feta
Average 3 of 5 stars