A luxury appetizer doesn't have to be difficult to make. These super festive puff pastry parcels prove the point – you'll have them on the table in no time. The sweet pointed peppers are the star of this dish. The flesh is wonderfully soft and easy to slice, making them easy to incorporate into these little parcels.
Serve a simple, but deliciously creamy, horseradish dip with these puff pastry parcels. A top combination!
Preparation
Defrost the sheets of puff pastry. Preheat the oven to 220 degrees and line a baking tray with baking paper.

Remove the seeds and stem from the peppers and cut the flesh into long, thin strips. About the diagonal length of the puff pastry sheets. Cut the ham slices in half.

Place the sheets of puff pastry on the work surface with one point in front of you. Spread each slice with 1 tablespoon of cream cheese. Place a slice of ham and a few strips of pepper on top. Spread about 10 grams of cheese on top. Do this with each puff pastry sheet.

Then beat the egg. Fold the left corner of the puff pastry sheet over the pepper strips and do the same with the right side. Press firmly. Then glaze the puff pastry with the beaten egg.

Bake the puff pastry parcels in the oven for 10 – 15 minutes until the puff pastry is cooked and the cheese is melted.

In the meantime, make the dip by mixing the horseradish with the mayonnaise, yogurt and finely chopped chives. Season to taste with salt and pepper.

Serve the puff pastry parcels with the dip. Garnish with chives, if desired.
Related salads chosen by others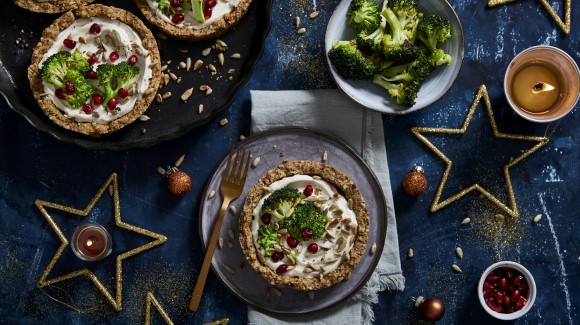 Tartlet of broccoli and pomegranate
Average 3 of 5 stars
Celery and prawn salad
Average 3 of 5 stars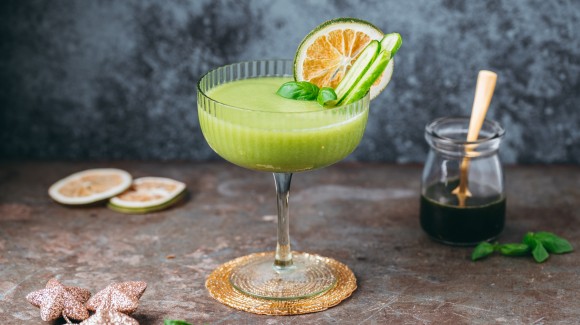 Cucumber cocktail
Average 4 of 5 stars