Like tomatoes and courgettes, aubergines and pointed peppers are ideal for stuffing and baking in the oven, which is why we combine them in this recipe! You immediately have a veggie-rich meal in one dish. Super easy, convenient to make in advance and simply delicious.
Preparation
Preheat the oven to 180 degrees.

Chop the onion and finely chop, or crush, the garlic clove. Halve the aubergines and scoop out as much flesh as possible with a spoon. Cut the flesh finely. Halve the pointed peppers and remove the seeds.
Heat oil in a large frying pan or skillet and sauté the onion and garlic until the onion is translucent. Then add the minced chicken and fry until loose. Next add the aubergine pieces, passata, Italian herbs, and soy sauce. Stir and bring to a boil. Then turn down the heat and let it simmer for 10 – 15 minutes until the aubergine and minced chicken are cooked. Finely chop the olives and add them to the sauce along with the pine nuts. Then season with salt and pepper.
Spread the canned tomatoes over bottom of the baking dish. Lay the aubergine and pepper halves on top with the cut side up. Spread the minced chicken mix over the vegetables and put the dish in the oven. Bake in a preheated oven for 15 – 20 minutes until the aubergine is cooked.
Garnish the stuffed aubergine and pointed pepper with fresh parsley and serve immediately.
Tips from the author
If you like this stuffed aubergine recipe, then you should also try this stuffed aubergine with bolognese sauce and mozzarella recipe.
Related salads chosen by others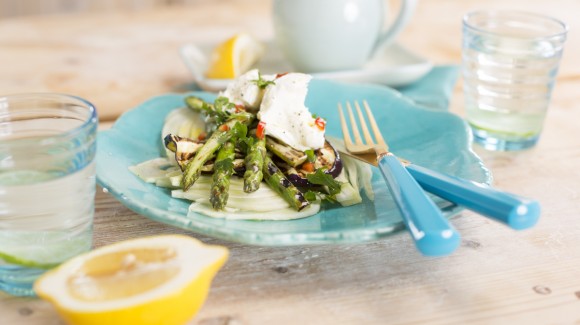 Grilled eggplant asparagus and fennel salad
Average 3 of 5 stars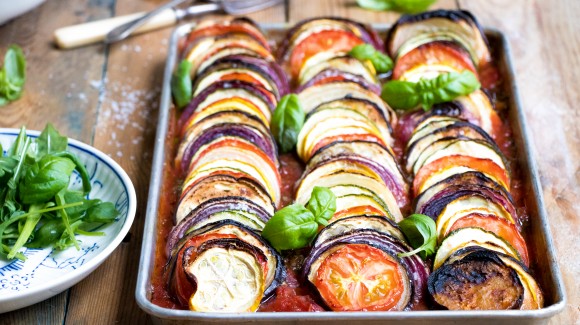 Classic ratatouille
Average 3 of 5 stars
Elegant eggplant salad with saffron yoghurt and pomegranate
Average 3 of 5 stars