This salad from the South of France is a meal on it's own and you vary endlessly with the ingredients. This one is made with Frisée lettuce which adds a slightly bitter touch. And it's a perfect companion to the other ingredients of the Niçoise like green beans, tomatoes and anchovies.
Preparation
Put a large pan of salted water on the fire, wash the green beans and cut of the top of each bean.
When the water boils add the green beans and cook them shortly. Don't overcook, they should be tender with a little crunch. Wash with cold water and let them cool.
Wash and dry the lettuce and divide over 4 plates. Cut the tomatoes and eggs in wedges.
Divide onion rings, cold green beans, artichoke harts, olives and eggs over the Frisée lettuce.
Prepare the dressing by mixing the olive oil, red wine vinegar, lemon juice and crushed garlic. Add sea salt and freshly ground pepper to taste and divide the dressing over the salad.
Divide the tuna chunks and anchovy fillets over the plates and serve with a lemon wedge.
Related salads chosen by others
Caesar salad with endive and grilled bell pepper
Average 3 of 5 stars
Salad with cherry tomatoes and burrata
Average 3 of 5 stars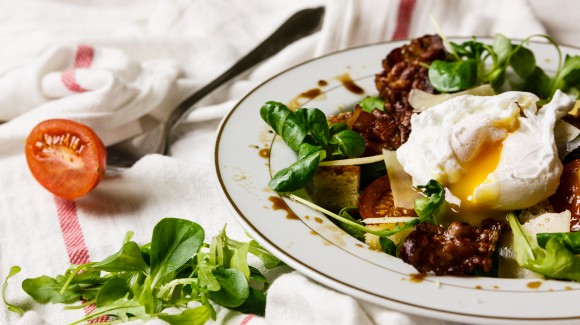 Lyonnaise salad (warm bacon and egg salad)
Average 3 of 5 stars