This healthier take on a potato salad is bursting with texture, with an unusual pairing of crunchy cos lettuce with hearty potatoes. Perfect if you're looking for a salad that's a little bit more filling. The honey vinaigrette and basil help keep it light with a beautiful hint of sweetness.
Preparation
Put the potatoes with a little water in a pot, bring to a boil, cover and cook about 15 minutes until tender. Drain and set aside.
Boil water for the eggs in another pot. Put the eggs into boiling water and cook about 7 minutes until hard boiled. Once cooked, pass them under cold water.
Meanwhile, rinse the lettuce and dry well, then chop. Cut the tomatoes into small chunks. Wash the basil and cut into small pieces, setting some aside for garnish. Chop the shallots finely, and toss all the vegetables in a large salad bowl.
Using a blender, or a deep bowl and a whisk, mix the olive oil, white wine vinegar, honey, salt and pepper, and half of the Parmesan cheese. Add 2 tablespoons of water per person to make the dressing.
Quarter the potato halves, add the potatoes to the vegetables in the bowl, and mix well. Season with salt and pepper to taste. Divide the salad among the plates.
Gently peel the eggs and slice them. Garnish salad with the remaining Parmesan cheese and basil. Serve with boiled eggs sliced on top.
Tips from the author
If you need to leave the cooked potatoes while you prepare the remaining ingredients, put them in cold water after draining. This will prevent them reacting with the air and losing their creamy white colour.
Related salads chosen by others
American coleslaw
Average 3 of 5 stars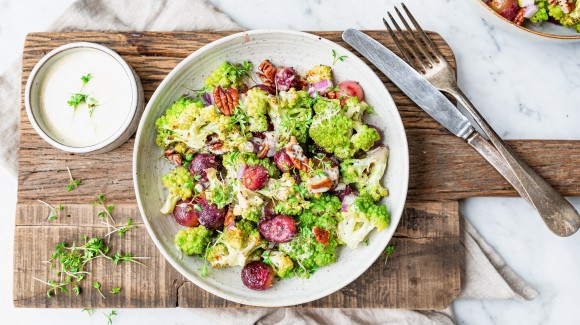 Salad of grilled Romanesco and grapes
Average 3 of 5 stars
Niçoise Salad
Average 3 of 5 stars