Time to meet a sensational salad packed with flavours and vegetables that will make your friends and family ask for this recipe again. The basis of this salad is salatrio. The salatrio mix, what's in a name, consists of 3 different lettuce varieties.
Perfect to create a salad bursting with different flavours and textures! Consisting of two types of somewhat firmer curled lettuce and one softer oak leaf lettuce, it is a match made in heaven when making lukewarm salads. The leaves will stay firm to the bite. The salad will absorb its flavours from the oven.
By baking the zucchini and cherry tomatoes in the oven and then using the remained liquids for the dressing, you kill two birds with one stone: on the one hand the cherry tomatoes and zucchini get packed with delicious flavours and will become the starring players in your salad and on the other hand your salad will be immediately seasoned! Serve with deliciously creamy burrata or mozzarella and crispy, golden brown roasted pine nuts.
Preparation
Preheat the oven to 200 degrees Celsius (392 degrees Fahrenheit). Cover an oven dish with parchment paper.

Cut the ciabatta into thin slices and mix with some olive oil and salt. Put them on one half of the oven dish when the oven is preheated.

Cut the zucchini lengthwise into quarters and then into thin slices. In a large oven dish, combine the olive oil, balsamic vinegar and honey into a dressing. Then add the zucchini pieces and the tomatoes and mix well. Season with salt and pepper and put the dish on the other side of the oven dish in the oven. Bake in the oven for 20 minutes. In the meantime remove the ciabatta (+- 10 min.) before it gets too dark. Roast the pine nuts in a dry frying pan over low heat until brown.

Remove the leaves of the three lettuce varieties from the head and wash the leaves. Then pat them dry and put them in a large bowl. Upon roasting, mix the vegetables with the lettuce in the bowl and also pour in all the dressing from the oven dish. Season with salt and pepper.

Serve the salad on plates and scoop half a ball of burrata or mozzarella on each plate.

Sprinkle the pine nuts over the dish.
Related salads chosen by others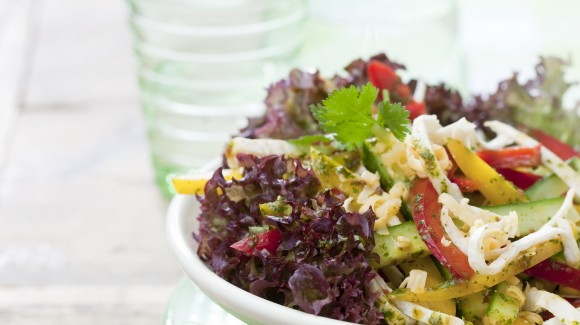 Grilled chicken salad sour cream dressing
Average 3 of 5 stars
Celery and prawn salad
Average 3 of 5 stars
Caesar salad with endive and grilled bell pepper
Average 3 of 5 stars