You are going to rock around the clock with this recipe that combines the best of both worlds: a world-famous, tasty snack featuring our stars of your dish the sweet pointed peppers. Let me guess… you have never considered transforming these mild sweet pointed peppers into fries, did you? No worries, we did! And we are happy to share this invention with you.
Beauty is in the eye of the beholder, don't you agree? Because we live a colourful life we have chosen a dish representing every colour of the rainbow by combining red pointed peppers, orange sweet potato, purple onion, a light red sauce and green herbs. As it turns out beauty has not only become healthy when you admire this dish, but it has also turned into a savoury dish with a great taste.
So do you go the extra colourful and healthy mile with us; soft sweet potato and pointed pepper fries, topped with melted cheese, sweet-sour onions and a slightly spicy but fresh salsa of sriracha. Even your kids will love this dish!
Preparation
Turn on the oven at 220 degrees Celsius (428 degrees Fahrenheit). Cover an oven tray with parchment paper.
Cut the onion into quarter rings; as thin as possible. Mix the onion rings in a bowl with the white wine vinegar and sugar and stir well. Set aside and stir occasionally.
Mix the sweet potato fries in a bowl with the olive oil, garlic powder, onion powder, paprika, cornstarch and salt and pepper. Make sure all fries are well covered with the ingredients. Spread them over the oven tray. Do not rinse the bowl you have used to flavour the fries, you will use it again.
Bake the sweet potato fries for 20 minutes in the preheated oven.
In the meantime, remove the stem and seeds from the pointed peppers. Cut the flesh into fries. Put the fries in the previously used bowl and toss them in the bowl with the remaining oil and spices. Season with salt and pepper.
Mix the mayonnaise with the yogurt and the sriracha to form a sauce.
Put the baked sweet potato fries in a large oven dish and mix them with the pointed pepper fries. Spread the grated cheese over the fries.
Bake the loaded fries for 5 – 10 minutes in the preheated oven until the cheese has melted.
Serve the fries with the sweet and sour onion, the spring onions (cut into rings) and the sriracha sauce.
Related salads chosen by others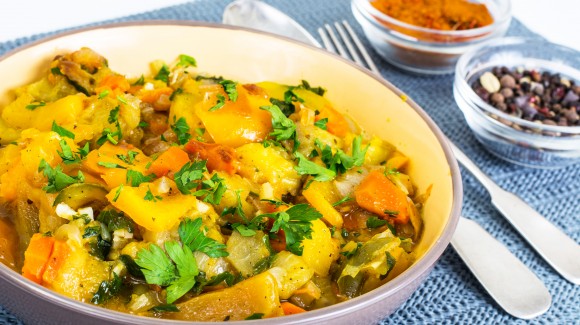 Creamy Mediterranean vegetable curry
Average 3 of 5 stars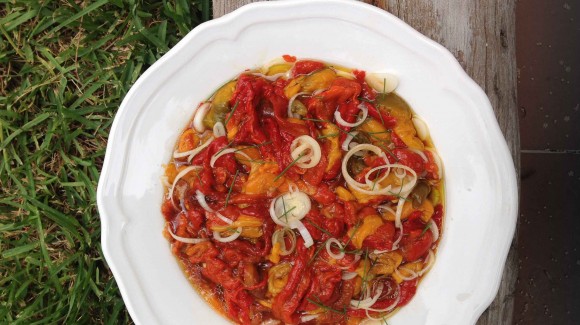 Your Best Roasted Capsicums (Peppers)
Average 3 of 5 stars
Stuffed pointed pepper with pearl couscous and marinated halloumi
Average 3 of 5 stars