If you are looking for a sensational breakfast salad then this Japanese style eggplant salad with a ponzu dressing is a real treat. The fresh flavours of tomato, cucumber, snow peas combine well with the lightly pickled daikon and roasted eggplant. Serves 4 for a light breakfast.
Preparation
Pickled Daikon - 500ml water; 2 tbsp salt; 2 tbsp sugar; 4 tbsp rice vinegar (can substitute white or white wine vinegar); 1 tsp fresh ginger, finely chopped; 1/2 daikon (white radish) - peeled and sliced into fine ribbons approx 8 x 2cm using a vegetable peeler
Pickled Daikon (this is a quick pickle, it uses a strong, hot pickling liquid combined with very thinly sliced daikon to achieve an outcome that is piquant on the outer, yet retains its fresh and crunchy feel). Set the daikon aside and mix all other ingredients in a small pot, stirring well. Heat gently until all the salt and sugar is dissolved into the solution stirring occasionally, do not boil. Turn off the heat and add enough of the daikon strips to ensure they are just covered by the pickling liquid.
Miso eggplant - 6 tbsp white (shiro) miso paste; 4 tbsp sugar; 4 tbsp mirin; 2 tbsp sake; 2 tbsp veg oil; 1 eggplant
Preheat oven to 220˚C; cover a large baking tray with a sheet of baking paper. Mix white miso, sugar, mirin, & sake in a small pot, heat gently whilst stirring constantly with a small whisk until just combined then turn off heat and, whilst whisking slowly add the oil. Slice eggplant into bite sized wedges and place in a mixing bowl, add the warm miso mix and toss or gently stir to coat well, ensuring all the surfaces of the eggplant are coated. Spread the eggplant out over the baking tray, making sure they are evenly spaced and not touching, the objective is to quickly roast, not stew the eggplant. Place tray high in oven. Check after 10min, then at 5 min intervals. You're looking for signs of caramelisation, but not burnt! Once cooked, remove tray to a cool place
Salad ingredients - Cucumber: cut however you prefer, in half lengthwise then sliced on an angle works well for this salad, but it's up to you; tomato - slice in half lengthwise; snow peas - julliene lengthwise (cut into match sticks); sesame seeds - toast gently in a fry pan on medium heat then remove to a cool plate; garnish - pick, rinse and dry leaves as required
To assemble - Arrange your serving plates; add the cucumber, tomato, snow peas, daikon and then eggplant to a mixing bowl. Using your hands and fingers, gently mix until just combined. Place handfuls of the mix on serving plates, aiming to build height and uniformity then scatter with toasted sesame seeds and microherb garnish, then sparingly dress with the ponzu dressing and serve.
Tips from the author
Ponzu dressing - store bought ponzu is more than acceptable, however if you wish to make your own then here is the recipe - lasts if refrigerated: 100ml yuzu juice (can substitute lemon/lime, however yuzu is a unique citrus flavour and is readily available in juice form at asian/Japanese grocers); 100ml soy sauce (preferably quality, salt reduced Japanese soy sauce); 2 tbsp mirin; 1 tbsp sake; 1 piece dried kombu kelp @ 3cm x 3cm square; 2 tbsp dreid bonito flakes; 1 small dried shiitake mushroom
Mix all ingredients in a sealable container, seal and refrigerate for 3 days, then strain through a fine sieve. Discard solids & refrigerate dressing in a squeezy bottle.
Related salads chosen by others
Asian style salad with carrots, mango, mint and peanut dressing
Average 3 of 5 stars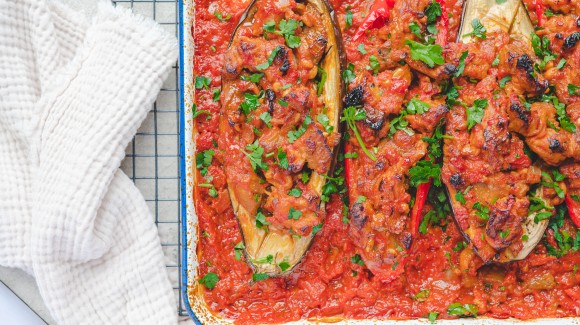 (Oven-baked) stuffed aubergine and pointed pepper
Average 3 of 5 stars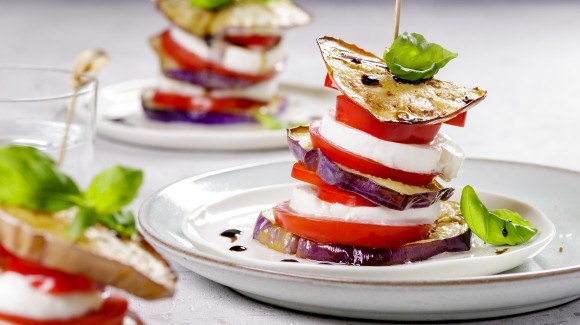 Grilled aubergine stacks with mozzarella and tomato
Average 3 of 5 stars