Hosting a large BBQ for a crowd? Quick and easy recipes can be a life saver. This grilled melon with lime dressing is super easy and ready in minutes. It's perfect as dessert, and also goes well with grilled meat as a side dish.
Preparation
Cut the melon into quarters, discard the seeds and then cut again into slices (not too thin).
Sprinkle the melon wedges with lime juice and some chili flakes.
Grill each side on the BBQ for a few minutes (until grill stripes appear).
Tips from the author
The Charentais melon is an aromatic and sweet melon variety popular in France. It's also known as cantaloupe or rockmelon in other countries. Here are some tips to select a ripe melon: the overall colour of the rind should be creamy yellow, not green and it should have a musky and sweet fragrance.
Related salads chosen by others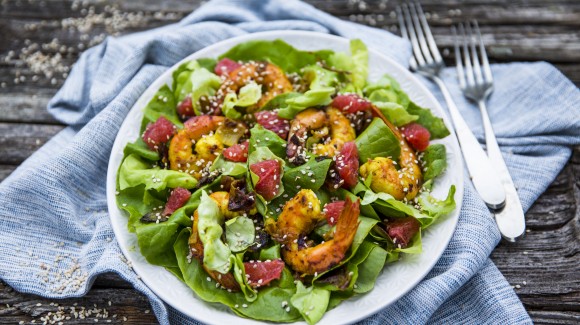 Spicy shrimp salad with pink grapefruit and sesame seeds
Average 3 of 5 stars
Heirloom tomatoes and goats curd salad
Average 3 of 5 stars
Mini Caprese salad on a stick
Average 3 of 5 stars