Skewers are a BBQ favourite. Have you ever thought of offering a vegetarian option? This delicious variant combines Greek flavours such as tomato, feta, and oregano. These Greek skewers work best when you slice the courgette / zucchini into ribbons (you can do this easily with a peeler or cheese slicer). That way the zucchini cooks faster and the feta does not melt too quickly.
Preparation
Slice the courgette into long flat ribbons with a peeler or cheese slicer.

Make the marinade by mixing the olive oil with lemon juice and oregano. Place the courgette ribbons in a large baking dish and coat them with the marinade. Then add the snack tomatoes and roll them through the marinade.

Cut the feta into 2cm cubes, add them to the flour and toss to coat.

To thread the skewers, begin with a courgette ribbon. Fold it over the skewer with a loop, alternately adding a tomato and a feta cube in between, so you get a nice variegated skewer. Importantly, make sure that the feta is 'wrapped' in courgette, so that it is on the ribbon on one side. That way it will not melt off your skewer when grilled.

Grill the skewers over medium heat, cooked on one side only. The ribbons are very thin, so the skewer does not need to be rotated and the feta stays neatly on the courgette. The skewers are ready as soon as the courgette shows grill marks (3-5 min.).
Tips from the author
p: Place the skewers in water in advance so that they do not burn during grilling.
Related salads chosen by others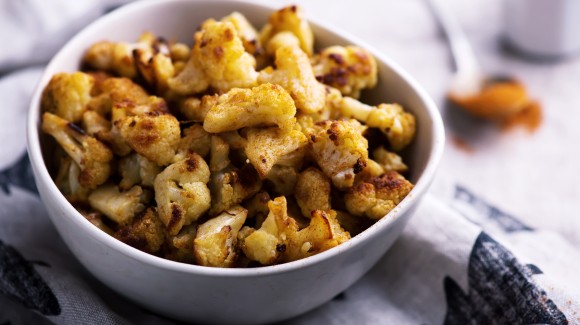 Popcorn cauliflower
Average 3 of 5 stars
Tomato grain salad
Average 3 of 5 stars
Spicy carrot ginger soup
Average 3 of 5 stars