Texture is an important component to Asian cuisine and when it comes to the perfect balance of textures and flavours, this spicy shrimp salad ticks all the boxes. With a base of soft butter lettuce leaves, a tangy citrus punch, crunchy sesame seeds and a hint of spice, this dish has a little bit of everything and is 'meaty' enough to serve as a main meal.
Preparation
Peel the grapefruit, cut into cubes and set aside.
Peel the onion, thinly slice and fry in a pan with 2 tablespoons of olive oil, for about 3 minutes.
Add the spices, 50ml of water and continue cooking until the water is absorbed.
Increase the heat and add the shrimps. Sauté for about 1-2 minutes, add the rice vinegar, and cook for another two minutes.
Prepare the vinaigrette dressing by mixing 3 tablespoons of olive oil, balsamic vinegar, salt and pepper.
Combine the lettuce, shrimps and grapefruit in a salad bowl. Season with vinaigrette and sprinkle sesame seeds on top.
Tips from the author
Butter lettuces have thick, brightly coloured leaves that are tender and mild and complement the spicy Asian flavours.
You can use thawed frozen shrimps/prawns, or uncooked fresh shrimps/prawns for this dish. Ensure shrimps are shelled prior to cooking. For more recipes with shrimps or prawns, check out our collection.
Related salads chosen by others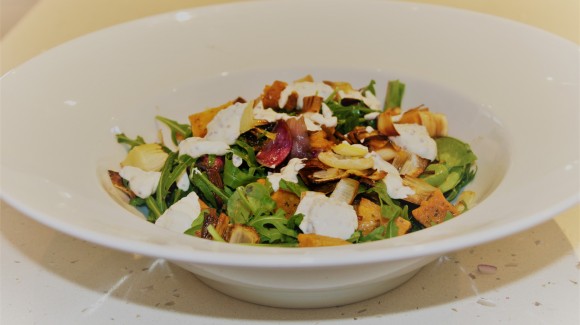 Rocket leek and sweet potato salad
Average 3 of 5 stars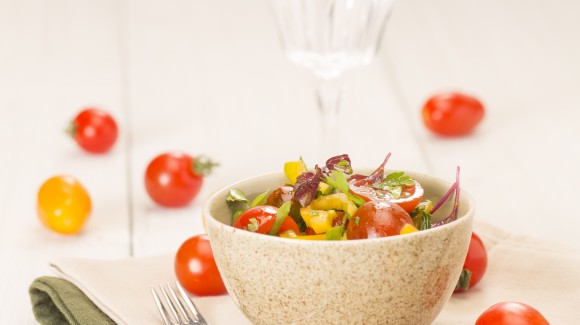 Thai inspired tomato salad
Average 3 of 5 stars
Colourful tomato salad with coriander vinaigrette
Average 3 of 5 stars