This traditional stew, Molokhia (pronounced Moll-o-hey-ya) is a lemony broth and somewhat of a national dish in Egypt and believed to have been a meal prepared for royals and Pharaohs. There are variations of this dish throughout the Middle East, yet the ingredients and cooking processes remain relatively simple. Often eaten with rice, it is also commonly served alongside roasted chicken, with lemon wedges.
This dark green stew is one I grew up with and was a common meal in my household, with the aroma taking me back instantly to my youth. It was a meal that never made it into the fridge as a leftover, because there was never any left over.
The colour and texture combines to provide an intriguing sight, similar to watching an open fire. With every movement of the spoon, the waves of chopped spinach create a mysterious scene, inviting you to see what flavours lie beneath. Despite the simplicity, the flavour remains outstanding. Molokhia is well worth a taste, but don't overcook it. Try it for yourself and immerse yourself in the flavours.
Preparation
In a saucepan, add 1 litre of stock and 1 tbsp tomato paste. Bring to the boil then reduce to a simmer.
Add 2 bunches of chopped fresh spinach and simmer for 5-10 minutes. You could also use 800g frozen spinach, but I find the flavour is best when the spinach is fresh. I recommend taste testing and being careful not to overcook the spinach.
In a frying pan, over a low heat, add a splash of olive oil and saute the garlic and onion until translucent.
Add the fried garlic to the saucepan and mix to combine.
Tips from the author
If using fresh spinach, wash the leaves thoroughly. A chef once suggested that after washing fresh spinach, fry it with lemon juice and a teaspoon of oil in batches until each batch is dried, then continue cooking the recipe. If you can't find English spinach, you could also try silverbeet, but note that it will take a bit longer to cook. Alternatively, you could use 2 bags of baby spinach and stir it until it wilts.
This dish is best served with over fresh rice or pita bread and with a lemon wedge on the side. Adding a dollop of sour cream or Greek yoghurt provides a tasty touch.
For those who enjoy coriander (also known as cilantro), you can fry it with the garlic before including in the saucepan. You could also add flavours including a cinnamon stick, 2 bay leaves, or 3-4 cardamom pods.
Garnish with a simple mint leaf.
7 ways to get through your day, with the goodness of spinach
Related salads chosen by others
Truss tomato and zucchini tart
Average 3 of 5 stars
Baby gem hearts with roasted peppers and anchovy dressing
Average 3 of 5 stars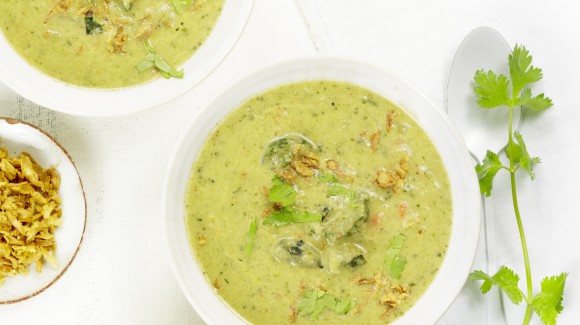 Creamy Asian cucumber soup
Average 3 of 5 stars