This classic Italian salad has become a favourite on my summer BBQ menu. A panzanella salad is based on the idea that nothing is wasted in the kitchen. It is tradition to use leftover bread and spice it up with flavours like fresh basil, garlic, olive oil and balsamic vinegar - all perfect for a quick snacking salad. In this recipe I have used capsicum (bell pepper), tomatoes and cucumber for optimum crunch and colour.
Preparation
Cut the bread into 2cm cubes, spray with olive oil and pan-fry until toasted and golden brown.
Chop the capsicum and cucumber into bite-sized chunky pieces and add to a bowl with the bread.
Whisk together the dressing ingredients and combine with the salad.
Quarter the tomatoes and add to the salad at the last minute as this prevents them from breaking up.
Gently combine the ingredients and serve with a fresh basil leaves.
Cure your hunger instantly with snacking salads
In those moments of exhaustion after a long day at work, it's second nature to go straight to the fridge in search of a quick snack. Too often I would take the easy option and reach for a packet of chips or some cheese and crackers. This would cure my hunger instantly and provide a quick boost to my depleted energy levels – an easy fix. But as you might have guessed, the satisfaction doesn't last for long and it's hard to enjoy dinner after filling up on unhealthy snacks.
The other night as I was feeling the effects of a hard day of study, my dad came over to me with a 'hugmug salad' in his hands. "Do yourself a flavour" he says, handing me a miniature salad creation in a cup normally used for hot chocolate. I was skeptical at first as his kitchen experimentation doesn't always work out, but this wasn't one of those times. The classic combination of cherry tomatoes, fresh basil leaves and bocconcini served in a cup was a winner. This goes to show that sometimes the best salads don't need to be shared at the dinner table. A salad cup works perfectly as a fresh and tasty snack, made just to your liking.
To make it easy, I have come up with five mini salads for you to enjoy, with each showcasing a combination of three knockout ingredients. These shouldn't take much longer than five minutes to prepare. To find the full recipes for each of these salads, click on the titles below.
The classic starter – A three-flavour combination of tomato, basil and bocconcini. An effortless appetiser that's hard to beat.
The melon cup – This summer refresher combines cubes of melon and feta with a few leaves of mint. This salad uses cantaloupe (rockmelon), but any melon varieties will work just as well.
The romance cup – This salad combines sliced strawberries, baby spinach leaves and crushed pistachio nuts with a few drops of balsamic vinegar and olive oil. A seductive combination that's sure to impress on your next date night at home.
The lunchbox salad – A combination of sliced apple, celery, grated ginger and raisins with a coconut and lime dressing. Looking at the ingredients, you might think you're reading a juice menu. But trust me, you'll want to eat your juice for this one.
Fennel and orange burst – This salad is a perfect pairing of the aniseed flavour of fennel, with the crunch of cucumber and a burst of fresh orange.
Photos by James Bertram
Related salads chosen by others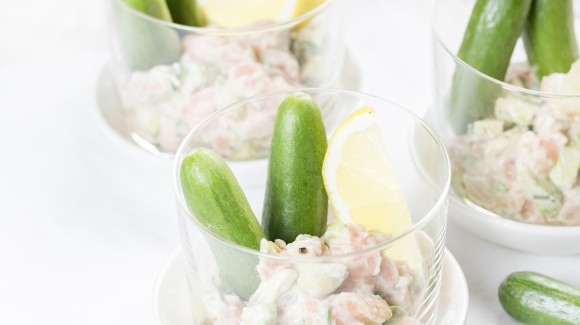 Appetizer of avocado salmon salad and snack cucumber
Average 3 of 5 stars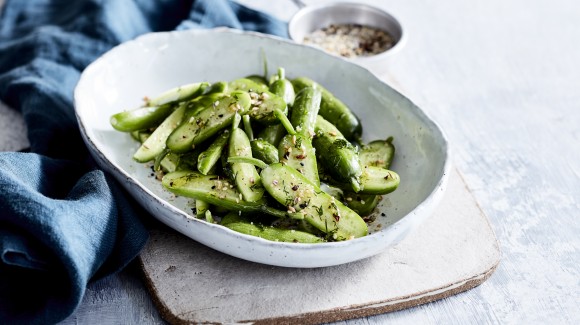 Middle Eastern 'Tiny Q' cucumber salad
Average 3 of 5 stars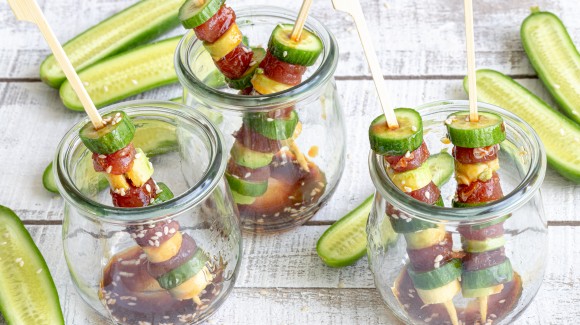 Cucumber tuna kabobs
Average 3 of 5 stars