You may have heard the words Cauliflower couscous (or Cauliflower rice) and dismissed it as another health fad. This recipe will prove it's worth your time. Light, fluffy and super easy to prepare, Cauliflower rice is the real deal. It can just as easily compete with rice and other grains as a hearty filler.
This colourful salad uses Cauliflower rice as a base, combined with fresh herbs, nuts, dried fruit and a nice squeeze of lemon juice. Fresh baby gem lettuce is added to the mix for a healthy dose of crunch.
Use this recipe as an entry point into the magic of turning Cauliflower florets into fluffy couscous.
Preparation
Place the cauliflower florets in a food processor and pulse until cauliflower is fine and crumbled. Be careful not to over process.
Finely chop the garlic and lightly pan fry with a little olive oil for 3 to 4 minutes with the cauliflower couscous. Remove from pan and allow to cool.
Finely slice the dates, dried apricots and fresh herbs.
Transfer the cauliflower to a large bowl and combine with the dates, apricots, herbs and chopped lettuce leaves. Squeeze over lemon juice and a drizzle of olive oil. Toss lightly.
Sprinkle over nuts and season to taste with salt and pepper. Decorate with red cress (optional)
Tips from the author
Cauliflower is prized for its versatility and ability to soak in lively flavours and spices. Try these salads to continue the journey.
An impressive roasted cauliflower salad with gorgonzola, celery and toasted nuts
Explore the flavours of sardinia with this salad that pairs cauliflower with anchovies and black olives
Related salads chosen by others
Salad with cherry tomatoes and burrata
Average 3 of 5 stars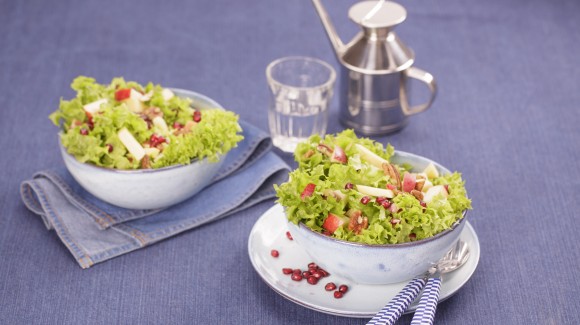 Crispy salad with apple, pecan nuts and goat's cheese
Average 3 of 5 stars
Classic Italian panzanella
Average 3 of 5 stars