'The classic Greek salad is loved here at Powerplants Australia. It tastes so good and has a lot of tomatoes, cucumbers and capsicums that are grown in Australia using our equipment', said Carl van Loon of Powerplants Australia Pty Ltd.
Preparation
Simply mix all ingredients.
Sprinkle the olive oil and white wine and add the salt and oregano to taste.
Tips from the author
Keep tomatoes at room temperature to optimise their taste.
Related salads chosen by others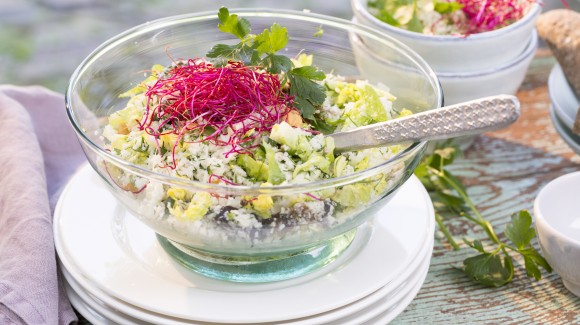 Cauliflower couscous salad with nuts and dates
Average 3 of 5 stars
Easy three colour lunchbox salad
Average 3 of 5 stars
Mediterranean salad with cherry tomatoes, black olives, mozzarella and basil
Average 3 of 5 stars