How to create the perfect Christmas salad platter
I've been to a few Christmas lunches in my time and there's a lot to get excited about. When extended family come together in shared reflection on the year that was, you can almost guarantee there will be plenty of laughs, a few touches of awkward conversation and way too much food for your tummy to handle. However, with a meal as heavy and indulgent as Christmas lunch, there's a need for freshness and balance on the dining table: enter the Christmas salad platter.
Whilst you probably know all about the health benefits of salads, nutrition seems to fade into the background when the silly season ramps up. But on Christmas day, salads shouldn't be left out. They play a crucial role in the experience, bringing freshness, lightness and a visual feast of colour. Choose the right salads and you will decorate any joyous seasonal occasion.
Included below are three notable salads from our archives, each serving a different but essential purpose. There's the crowd-pleasing slaw that everyone will be heaping on their plate, the elegant flavour punch for the adventurous foodie, and the deceptively simple, restaurant-quality side.
Just don't forget to enjoy the process, amidst the chaos of Christmas day. Remember to take pride in creating and enjoying food that gives back in flavour and complexity. As television writer, Andy Roony points out: "One of the most glorious messes in the world is the mess created in the living room on Christmas Day. Don't clean it up too quickly".
So choose your favourite or make all three to form a diverse and vibrant Christmas salad platter. Each dish is guaranteed to amplify the Christmas cheer.
A zesty and refreshing Christmas slaw
This is your ultimate crowd pleaser and the perfect side dish if you're serving roast pork for Christmas lunch. It brings a fresh, zesty and unique twist on the classic coleslaw with the addition of grated zucchini and beetroot. With crunchy textures, vibrant colours and a subtle tang from the dressing, it works really well as an accompaniment to any meat dish and easily balances richer or creamier dishes. For the full recipe: click here
A refined eggplant salad that showcases festive colours
Treat your guests to a sensual experience with this salad. Eggplant is the star ingredient here, however each flavour and ingredient will be vying for your attention. Pomegranate seeds and mint leaves are well utilised, adding bursts of freshness to round out the salty miso glaze. The triple colour combination of red, green and white makes for an extra festive and bright addition to the Christmas platter. For the full recipe: click here
The ultimate whole roasted cauliflower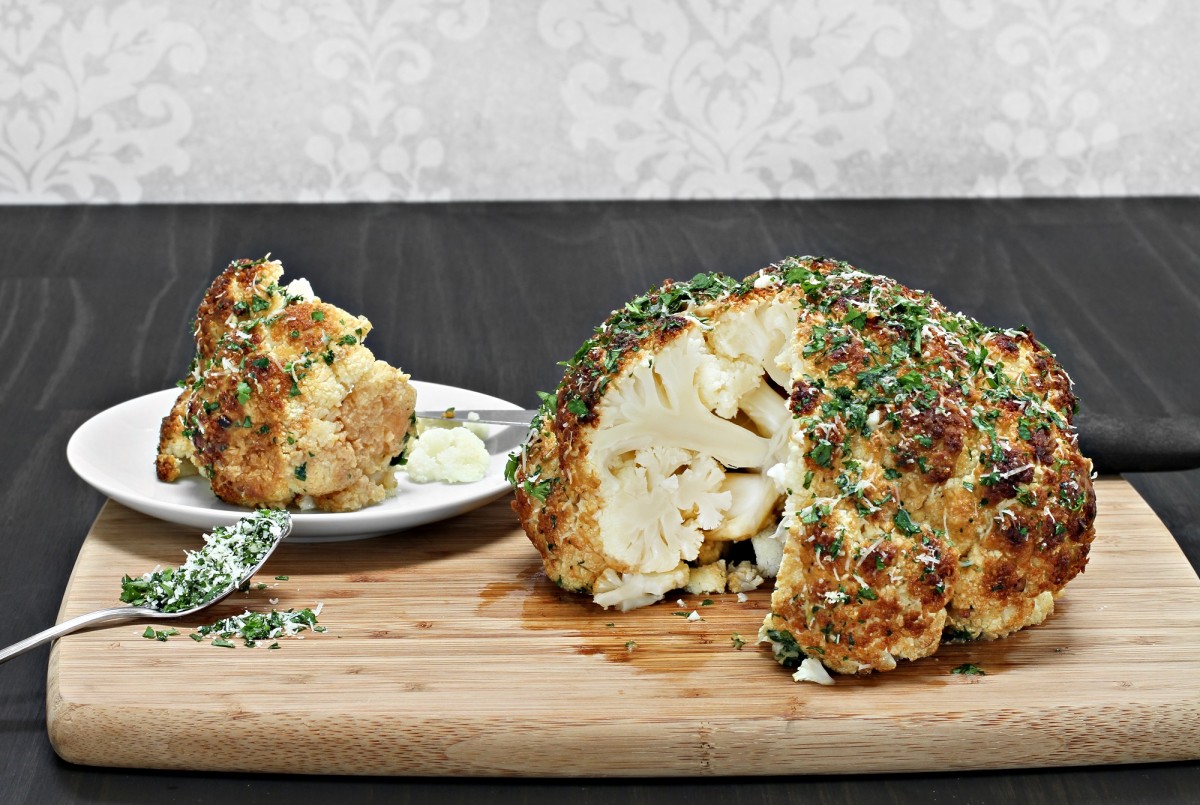 This ultra tasty side dish is a simple as it gets to prepare. Served on a dark plate and sprinkled with herbs and Parmesan, it looks and tastes like restaurant-quality food. To prepare, simply preheat the oven to 220°C, toss a whole head of cauliflower with olive oil, freshly chopped parsley, salt and pepper, and add an optional teaspoon of cumin. Roast for 20 minutes on a baking tray and serve finished with grated Parmesan. Place the whole head on the table and let your guests break apart the florets to their liking.