'Party till you drop' would be the perfect way to describe this traybake! It is the perfect dish to add some cosy colours to your dinner table thanks to the purple cauliflower, the orange sweet potato and the deep green herb oil and let's not forget the intense flavours which make this dish unparalleled in its beauty and taste. The roasted vegetables are served on a bed of heavenly hummus and they come and go with a sensational side dish; flatbread. Just cover the flatbread with the vegetables and hummus and experience a magical party in your mouth. Imagine putting a large bowl on the table and 'bon appetit'!
The Pièce de résistance of his traybake is without doubt the green herb oil made of fresh mint, coriander and parsley spiced up with red pepper, garlic and lime juice. This is really the flavourful masterpiece of attention of this dish. So don't save it for later, use it now!
Preparation
Preheat the oven at 220 degrees Celsius (428 degrees Fahrenheit).

Cut the cauliflower florets into thin slices and the sweet potatoes (with their skin) too. Put them on the baking tray. Do not use parchment paper to cover your baking tray to boost the caramelization process of the vegetables. Season the vegetables with pepper and salt and next roast the vegetables for 15 – 20 minutes in the oven until the cauliflower starts to brown.

Put the mint (without stalks), coriander (with stalks) and curly parsley (with stalks) together with the red pepper, garlic clove, lime juice and 3 tablespoons of extra virgin olive oil in a food processor. Mix until you get a smooth herbal oil. Add an extra tablespoon of olive oil if needed. Season the green herb oil with salt and pepper.

Mix 2 teaspoons of green herb oil with the roasted vegetables. Spoon the hummus onto a large platter and spread out the roasted vegetables on top. Sprinkle the vegetables with some green herb oil.

Serve the remaining herb oil for dipping and the flatbread as side dish.
Related salads chosen by others
Crispy kale chips, oven baked
Average 3 of 5 stars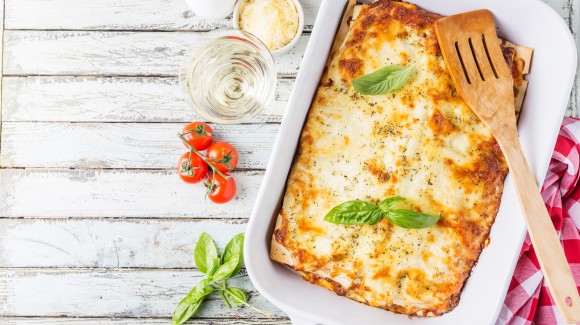 Vegetable lasagne
Average 3 of 5 stars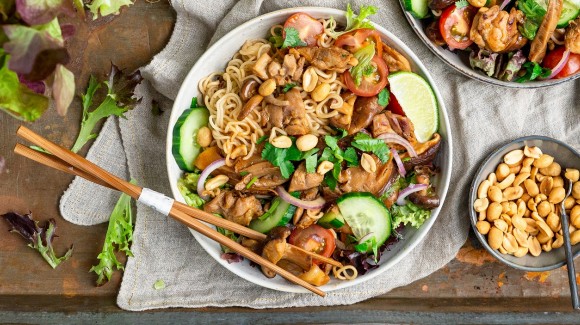 Oriental chicken with noodles and lettuce
Average 3 of 5 stars