Once you've tried these spicy roasted carrots with dill dip, you'll never want anything else. This is the snack you've always craved but didn't know you did. What makes it so delicious? The crispy salty bacon combined with the dressing of mustard, garlic, chilli flakes and soy sauce delivers an amazing flavour burst. Then there's the dip: it's creamy, yet fresh, and the perfect balance for the carrots. And the best part? These carrots are so delicious that you just don't realize you're eating vegetables! So, what are you waiting for? Try them today!
Preparation
Preheat the oven to 200 degrees and line a baking tray with baking paper.
Cut off most of the foliage from the carrot but leave a small amount as decoration. Wash the carrots thoroughly.
Roll a slice of bacon around each carrot and then place the carrots separately on the baking tray.
In a small bowl, mix the honey with the garlic, chilli flakes, mustard, and soy sauce. Then brush this sauce over the carrots.
Roast the carrots in the oven for 15 – 20 minutes until they are al dente, and the bacon is nicely browned (keep a close eye on the bacon for the last 5 minutes to make sure it doesn't overcook).
In the meantime, make the dip by mixing the mayonnaise with the Greek yogurt and finely chopped dill.
Serve the spicy roasted carrots with the dill dip on the side. A delicious snack anytime!
Tips from the author
Also try this delicous honey roasted carrots with feta and parsley or this creamy carrot soup!
Carrots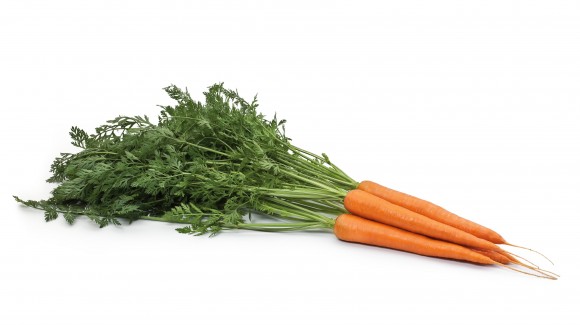 Although carrots are available throughout the year, locally grown bunches of carrots with their green tops are the freshest and most flavourful. While we usually associate carrots with the colour orange, carrots can actually be found in other colours including yellow, red, or purple. Did you know that purple, yellow and red carrots were the only colour varieties of carrots to be cultivated before the 15th or 16th century?