Waffles are real comfort food. And an ideal breakfast. They are light and crispy and can be either sweet or savoury. This recipe is a delicious combination of a savoury waffle with sweet, caramelized banana slices with a generous scoop of creamy Greek yoghurt. If that's not a good start to the day, I don't know what is! With a waffle iron you can make these savoury, homemade waffles in an instant. Don't have a waffle iron? No worries, I let you know below how to make them without one.
Preparation
Separate the eggs, keep the egg whites separate. Blend the milk with the baby spinach, yogurt and egg yolk in a mixer until it forms a smooth and uniform mixture.
Add the other ingredients and mix again to incorporate. Beat the egg whites until stiff and gently mix it through your batter (this ensures airy waffles).
Heat the waffle iron and grease it with butter or coconut oil.
Pour the batter on to the waffle iron plate – make sure you don't add too much – and close the waffle iron. Cook for about 3 or 4 minutes. You want them golden-brown not more.
Meanwhile, melt the coconut oil in a non-stick pan, add the sliced bananas and fry until brown on both sides.
Serve the savoury waffles with Greek yogurt, maple syrup, bananas, and flaxseed.
Tips from the author
Don't have a waffle iron? Use a grill pan instead. The waffles will be slightly larger, but you can cut them to the desired size.
Related salads chosen by others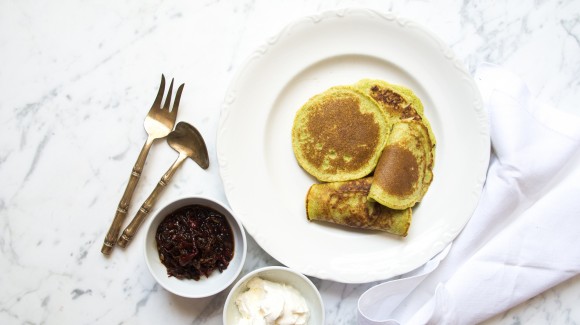 Broccoli pancakes
Average 3 of 5 stars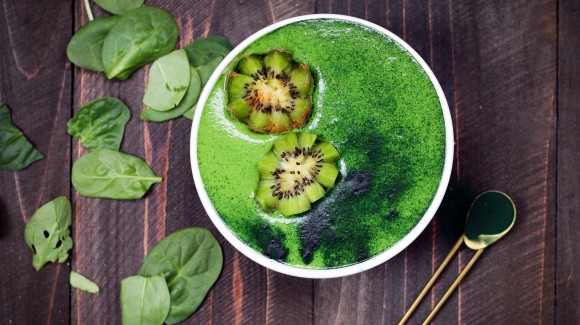 Green smoothie bowl
Average 3 of 5 stars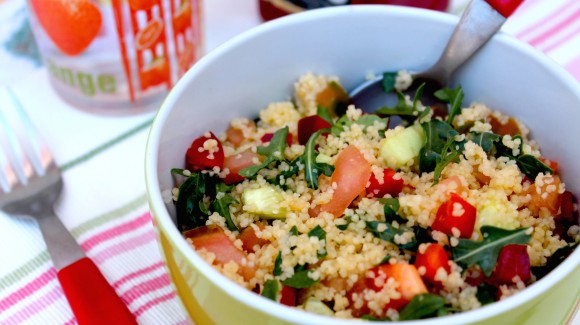 Couscous and fresh rocket salad
Average 3 of 5 stars