Something light, fresh, and healthy was on the menu inspired by the butternut pumpkin sitting on the kitchen shelf. I love roasting vegetables and serving them as a salad that is designed for sharing. This lightly tossed salad of eggplant, pumpkin and chick peas is served on a bed of baby spinach with a light and spicy creamy 'Morrocan' style dressing. While it takes a little time to prepare and roast the vegetables (which can be prepared ahead), trust me it's worth the effort!
Preparation
Preheat the oven to 220*C
The pumpkin takes a little longer to cook than the eggplant and capsicum. Chop the pumpkin into bite sized pieces, lightly toss in some olive oil then roast for 30-40 minutes in the oven griller until cooked. Then slice the eggplant and capsicum, brush both sides with a little oil and grill for 6-7 minutes per side. Allow to cool slighlty then cut into smaller pieces.
Just before serving: Whisk together the spices and the cream to make the dressing then, in a bowl, gently combine the dressing with the roasted vegetables and chick peas.
On a large flat salad plate place a generous layer of baby spinach leaves and simply top with the vegetable mixture.
Garnish with red onion, and thinly sliced carrot. Season with a little salt. Share and enjoy!
Tips from the author
Suggestions
Sort on time? Simply steam or boil the pumpkin while grilling the vegetables.
Mix and match with your favourite vegetables that you have on hand or are in season.
Roasted beetroot, zucchini, baby carrots and sweet potato will all work well with this salad.
Related salads chosen by others
Custard apple or 'sweetsop' salad
Average 3 of 5 stars
Spinach, mango & avocado salad with ginger dressing
Average 3 of 5 stars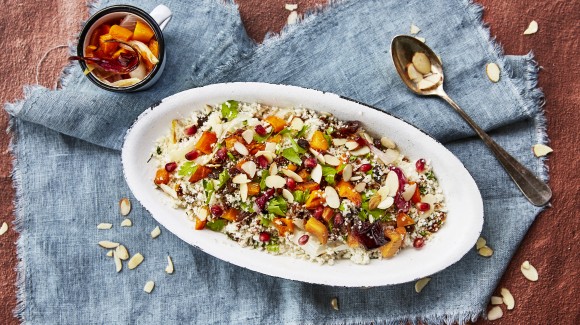 Cauliflower rice with pumpkin and almonds
Average 3 of 5 stars