White pizza or pizza Bianca in Italian is a pizza without tomato sauce. The pizza generally consists of pizza dough, olive oil, garlic, cheese, and toppings like vegetables such as tomato and herbs like basil and oregano. These mini white pizzas are perfect for snacking, and be cautious because they are addictive.
Preparation
Pour the two types of flour and the brewer's yeast into a bowl and mix well. Add the sugar, pour the warm water slowly, and then the extra virgin olive oil.
Mix the ingredients well with a fork and add salt.
Start kneading and continue until you get a rather sticky ball. At this point, transfer it to the floured work surface and knead until you get a soft and elastic dough (about 10 minutes).
Put the dough in a bowl with a drizzle of extra virgin olive oil, cover with a cloth and let it rise in a warm place. Alternatively, you could can heat the oven to a minimum, in this case wet the cloth so that the humidity does not get lost, for about 1 hour or until it doubles in size.
Take the dough, divide it into 8 pieces of 80/90 grams each, roll them out by pressing the surface well with your fingers and arrange on a pan covered with parchment paper. Add a drizzle of extra virgin olive oil and bake at 190°. Cook for 15 minutes or until golden brown.
Dress with buffalo mozzarella, washed and halved cherry tomatoes, capers, sunflower seeds, pepper and basil. Serve with a drizzle of extra virgin olive oil.
Tips from the author
Manitoba flour adds strength to dough, and can stand up to long rising times. It is typically used in breads that require long bulk fermentations, like pizza dough.
Related salads chosen by others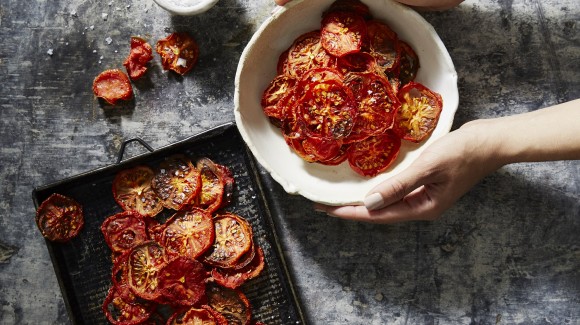 Oven Baked Truss Tomato Chips
Average 3 of 5 stars
Seafood paella with tomatoes and vegetables
Average 3 of 5 stars
Italian pasta salad
Average 3 of 5 stars