This is a lovely recipe for marinated vegetables on the barbecue. Enjoy!
Preparation
In a shallow dish, soak the skewers in just enough water to cover for 1 hour.
Place the potatoes in a casserole or baking dish with 1/4 of the water and cook on high for 5 minutes. Drain the water and set aside.
In a large bowl, whisk the seasoning mix together with the olive oil and lemon juice until well blended. Add the potatoes, cauliflower, mushrooms, zucchini, and bell pepper to the marinade and toss until well coated. Chill covered for at least 1 hour. Preheat the grill.
Thread the vegetables alternately on skewers and brush with the remaining marinade.
Grill for 10 to 15 minutes on each side or until the vegetables are golden and crispy.
Related salads chosen by others
Red onion, pepper and chilli chutney
Average 3 of 5 stars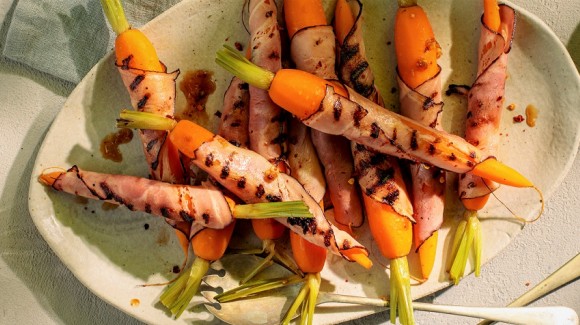 Grilled carrots with bacon
Average 3 of 5 stars
Chargrilled cabbage with Asian pesto
Average 3 of 5 stars