The scent of spring is in the air and you're soaking up the sunshine while laying on a picnic rug. The only thing that could make this moment more perfect would be a luxurious sandwich with homemade tapenade, a hearty slice of mozzarella and fresh lettuce and tomato. Lucky for you, we've got the recipe.
Creamy mozzarella and crunchy Salanova® lettuce pair nicely with the robust flavour of garlic tapenade with olives and anchovies. Added to a base of crispy bread and topped with seasoned sweet cherry tomatoes, this sandwich really is something special.
You can prepare the tapenade ahead of time, as well as the cherry tomatoes and bread, so you can assemble the sandwich without leaving your rug. A picnic can be more fun with company, so this recipe is enough to make four sandwiches.
Preparation
Peel the garlic clove and use a sharp knife to roughly chop it. Using the flat side of the knife, press down on to the garlic to work it into a smooth paste.
Cut the anchovies in to small pieces and chop the olives in half.
Mix the garlic, anchovies and olives in a small bowl, season with lemon juice and olive oil.
Chop the cherry tomatoes in half and add to a bowl with a splash of olive oil, lemon zest and pepper.
Melt the butter in the pan and place bread face down until toasted. Flip over and toast the other side.
Spread the tapenade on the bread and top with lettuce leaves, sliced mozzarella and cherry tomatoes.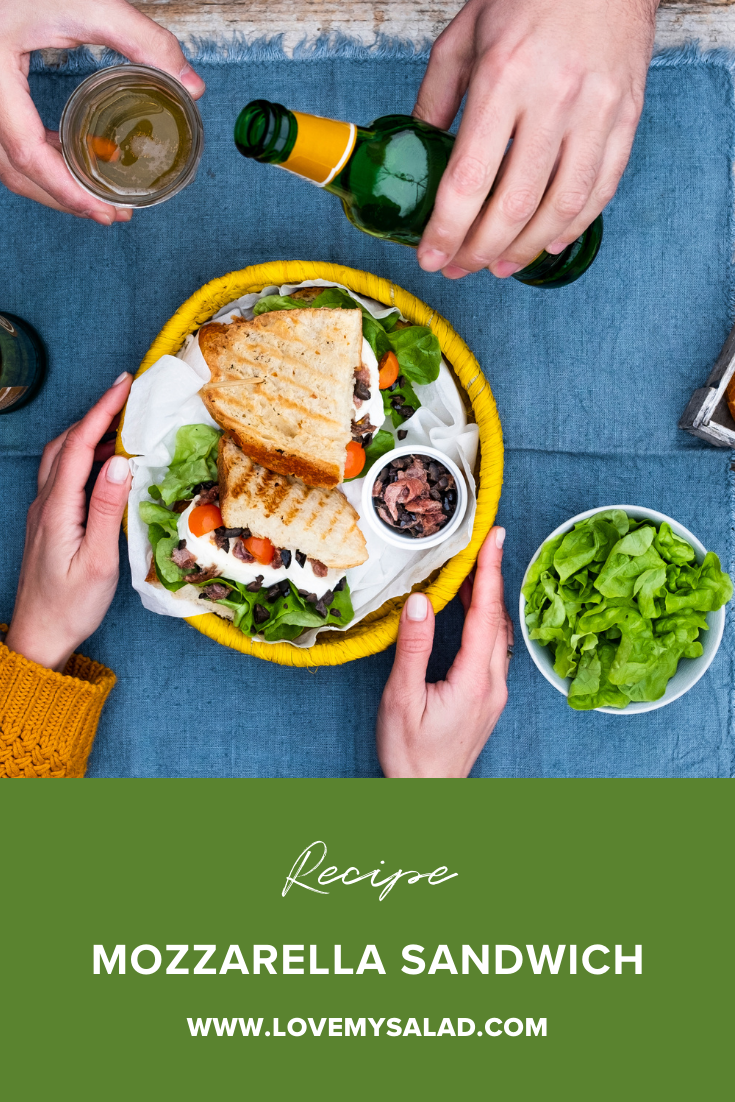 Tips from the author
Salanova® is a special type of lettuce that separates into many leaves with just one cut at its base. Salanova lettuces come in a range of colours and types, and their small leaves feature different textures and flavours. These lettuces are perfect as a base for a salad, or as the right sized leaf to put straight on a sandwich. You can read more about Salanova on Love My Salad.
Related salads chosen by others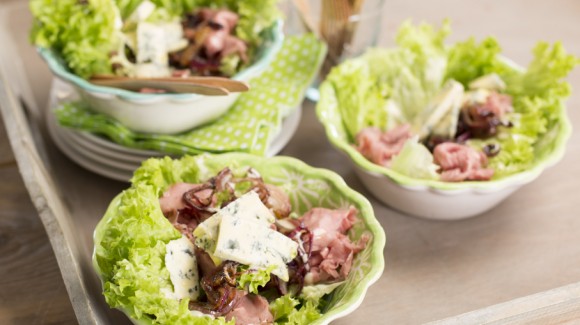 Crispy salad with roast beef and Spanish blue cheese
Average 3 of 5 stars
Easy three colour lunchbox salad
Average 3 of 5 stars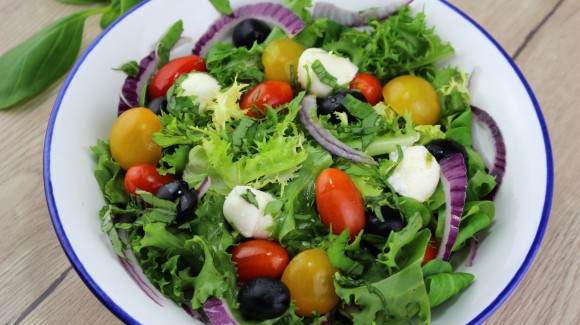 Mediterranean salad with cherry tomatoes, black olives, mozzarella and basil
Average 3 of 5 stars