This recipe makes lunchboxes easier than ever. If you're looking for new ways to make lunchtime more interesting for your kids, this quick and easy vegetable bread is a must-try.
When it comes to crafting simple lunchbox meals that last through the week this is my go-to recipe. Every slice of this tasty treat is packed with vegetables of all kinds.
The beauty of this dish is its adaptability. Simply add a cup of leftover vegetables to the baking mixture. My favourites are courgette, carrot, mushroom, cauliflower and broccoli but it's really up to you. The addition of fresh herbs and olives bring a hearty dose of flavour to the bread.
Serving suggestion: If you're looking for extra indulgence, serve slightly warmed with a dollop of butter—it's oh so good.
Once you discover how easy it is to make and how much your kids love the cheesy vegetable taste, this bread recipe will be indispensable.
Preparation
Preheat the oven to 180°C and grease a loaf tin with olive oil. Line with baking paper.
Finely chop the herbs.
Whisk the eggs in a bowl. Add the olive oil and whisk again. Add the milk and stir to combine.
Sift the flour into a bowl and make a well in the middle of the flour. Pour the liquid egg mixture into the flour and gently combine. Stir in the grated cheese.
Fold through the spring onion, herbs and olives, plus the cup of chopped vegetables.
Pour the mixture into the prepared pan and cook in the oven for 40-45 minutes.
Enjoy straight out of the oven while warm, or allow to cool and slice for lunchboxes.

Tips from the author
Note: Add as many vegetables as you like. Tomatoes, courgette, spinach, kale, carrot and pumpkin are all fabulous additions.
This recipe comes to you from Western Australian vegetable grower, Lara McCall, who is featured on the 'Paddock to Plate Schools Program'.
For more inspiring leftover recipes, try these:
An on-the-go pesto pasta, perfect for work lunches
Quick and easy vegetable frittata
Related salads chosen by others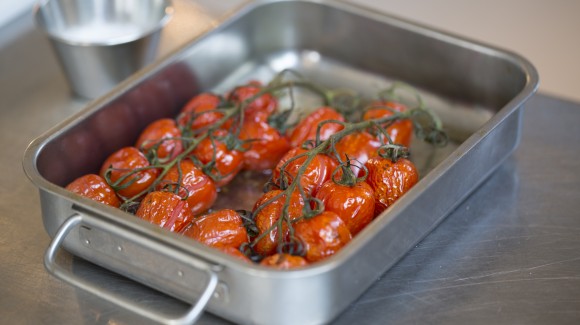 Warm tomato salad with feta cheese and olives
Average 3 of 5 stars
Rainbow salad with hummus and feta
Average 3 of 5 stars
Indian-spiced cauliflower
Average 3 of 5 stars